Boat Plans - Multichine 45 SK
A beautiful Swing Keel sailboat for sailing in any latitude in comfort and safety.
What makes the Multichine 45 SK outstanding is its capacity of entering in shallow waters, a possibility denied to fixed keel monohulls of about the same size.
With a very strong hull and structure as is the case with the range of our metallic boat series, the Multichine 45 SK is a strong and seaworthy yacht, but at the same time a fast performer in all points of sailing.
The Multichine 45 SK uses the same lines-plan of another of our designs, the Multichine 45, with the main difference that while the Multichine 45 has a fixed fin-keel, the Multichine 45 SK is specified to have a retractable swing-keel. We believe that this is one of the most promising ideas in yacht design. At any rate it's like a dream come true being able to touch the yacht's bow on a beautiful beach, just like those enviable catamarans, while having positive stability typical of monohulls.
Nós acreditamos que o sistema de quilha pivotável tipo canivete seja a idéia mais promissora na busca do veleiro de cruzeiro ideal. O Multichine 41 SK é um de nossos projetos de estoque mais desejados de nossa linha de veleiros para grandes aventuras.
Three separate cabins with the same number of heads, plus a bunk for a professional crew member, makes this yacht a choice for charter business, or for an owner´s usage with ample possibilities of accommodating large crews with comfort.
The Multichine 45 SK is specified for aluminium construction but can also be built in steel. For the aluminium version we can offer a complete boat kit for CNC cutting of the aluminium parts that compose the boat.
Comprimento da linha d'água
Pé-direito - Cabine de Proa
Pé-direito - Cabine de Popa
Área do triângulo de proa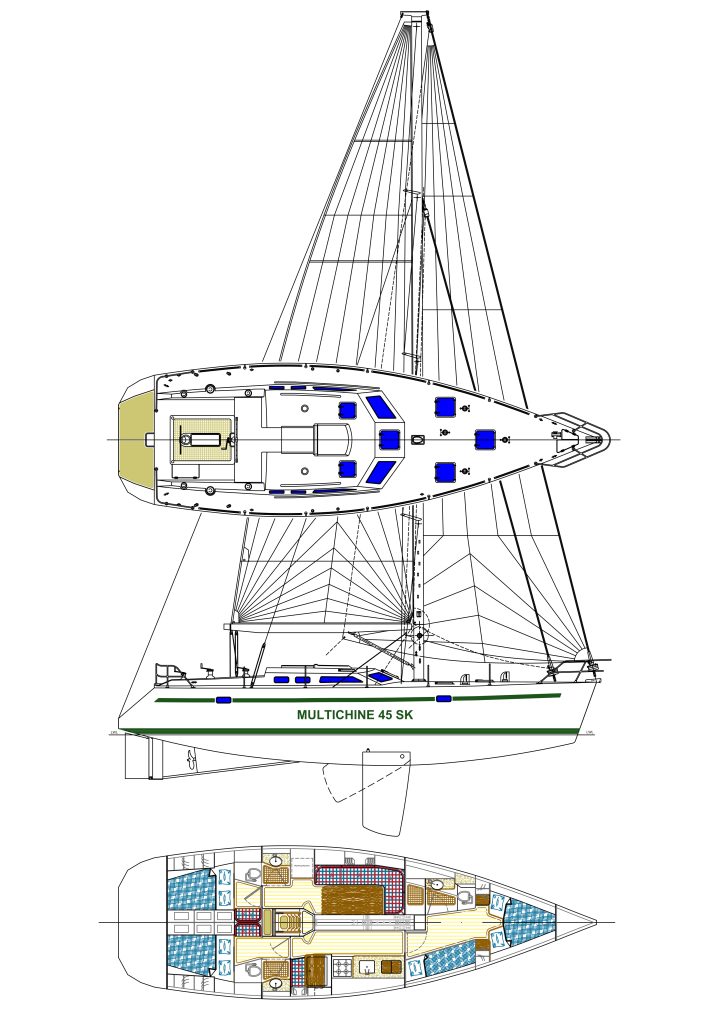 The MC 45 SK has a keel case placed at the central area of the boat, splitting the saloon in two halves. With 4.40 m maximum beam, it wasn't difficult to install the social area of the saloon to one side and the galley counter to the other. To port side is placed the L shaped dinette, and at the other side there is a complete galley with icebox, freezer, four burners stove with oven, and a large sink for maximum comfort. The access to the fore compartments is given by a corridor that separates the galley counter from the keel case. Next to the collision bulkhead that makes the aft wall of the anchor rode locker is placed a private double berth cabin. Abaft the cabin there is a single berth to starboard and a large bathroom at portside with a separate shower box. At the after quarter two double berth cabins, one with private bathroom to starboard and one with a common access bathroom to port, complete the accommodations. Three separate cabins with the same number of heads, plus a bunk for a professional crew member, makes this yacht a choice for charter business, or for an owner´s usage with ample possibilities of accommodating large crews with comfort.
Due to its deep bilges, the engine can be located all below the main saloon floor level, resulting in no encumbrance of the interior circulation. The same deep bilges allow for customization of capacities for water and fuel tanks.
Owing to the size of this boat, we are open to study alternative interior arrangements with each costumer.
A flush foredeck, small cabin trunk and large cockpit make for a simple and functional deck arrangement. A large cockpit locker and a good-sized stern platform are provided for convenience and easy access to the water. The cockpit seat behind the wheel can be made removable or pivoting to facilitate access to the cockpit.
The Multichine 45 SK is cutter rigged with spreaders swept aft, a feature that allows dispensing running backstays, a nuisance in cruising sailboats. This rig is simple and efficient, in our opinion the best choice for offshore sailing. The two foresails fitted with roller-furling gear allow for infinity of adjustments, keeping the boat balanced in practically any condition. The mainsail has its foot with moderate dimensions, representing less load on the steering system, especially on the autopilot, besides improving sail handling, mainly when jibing in heavy weather. With average sized sail area, the Multichine 45 SK is capable of performing good daily runs with minimum stress for the crew.
Mastreação, quilha e propulsão auxiliar:
The swing keel solution employed in the Multichine 45SK is no doubt one of the hot features of the project. The working mechanism we adopted in the design is being successfully employed in many other boats of our design, functioning flawlessly even in the worst conditions. We specified a system to lift the keel in which two spectra ropes are pulled by a hydraulic piston. The great advantage of this system is to avoid damage in case of accidental collision, once the keel is free to swing up, and when it falls back, the impact is dissipated by a shock absorber.
The Multichine 45 SK has two options of rudders: twin rudders protected by skegs, which keep the draft low and allow for efficient control due to the increased rudder area and
a fixed rudder placed behind a skeg, which protects the propeller blades when the boat is laying on a beach slope.
A quilha pivotável, além de proporcionar uma versatilidade fora de série, permitindo acesso a refúgios de baixa profundidade inacessíveis a veleiros de quilha fixa, ainda proporciona uma estabilidade muito elevada, graças ao lastro interno, colocado para permitir uma estabilidade segura quando a quilha estiver içada. A soma de lastro interno e externo supera em valor o peso médio dos fin-keels de veleiros de quilha fixa de mesmo porte, levando a estabilidade para um valor muito alto quando a quilha estiver abaixada.
With the same sail area as the one specified for the fin-keel version, the Multichine 45 SK has a slightly heavier displacement than the other design, but on the other hand she is more stable than the Multichine 45 when its swing keel is dropped.
Auxiliar propulsion recommended is a 50 to 80 HP diesel engine.
With 1100 l of water and 700 l of diesel fuel, capacities are good for a family ocean voyaging yacht.
CONTACT US FOR DELIVERY SCHEDULE