Cabo Horn 35 - Boat Plans
Blue water cruising yacht with inside steering.
The Cape Horn 35 is an ocean cruising yacht capable of taking you anywhere in comfort and style. Her unusual interior layout with inside steering is the best way to avoid sunburns, cold rain, or even worse… mixing salt water from a treacherous breaker with cold beer.
When sailing under perfect conditions, the outside steering wheel is there to give all the pleasure a well-balanced and responsive sailboat can offer. Besides these features, the Cape Horn 35 concept is what we consider the most adequate cruising boat of her size for blue water adventures.
Standing Headroom – Pilot House
Standing Headroom – Bathroom
Strip planking/cold moulded/fiberglass
CH35 – S0A – Full Size Patterns A
CH35 – S0B – Full Size Patterns B
CH35 – S0C – Full Size Patterns C
CH35 – S0D – Full Size Patterns D
CH35 – S0E – Full Size Patterns E
CH35 – S0F – Full Size Patterns F
CH35 – S1 – Lines Plan
CH35 – S2 – Mast and Sails
CH35 – S3 – Interior Layout
CH35 – S4 – Deck Layout
CH35 – S5 – Structural Arrangement
CH35 – S6 – Midship Section
CH35 – S6A – Stations 0 and 1
CH35 – S6B – Station 2
CH35 – S6C – Bulkhead B
CH35 – S6D – Station 3
CH35 – S6E – Bulkhead D
CH35 – S6F – Bulkhead E
CH35 – S6G – Station 6
CH35 – S6H – Bulkhead F
CH35 – S6I –Station 7
CH35 – S6J – Station 8
CH35 – S6K – Station 9
CH35 – S6L – Station 10
CH35 – S7 – Keel
CH35 – S8 – Rudder
CH35 – S9A – Custom Fittings
CH35 – S9A – Chainplates
CH35 – S10A – Engine Installation
CH35 – S10B – Strut and Tunnel
CH35 – S11 – Stem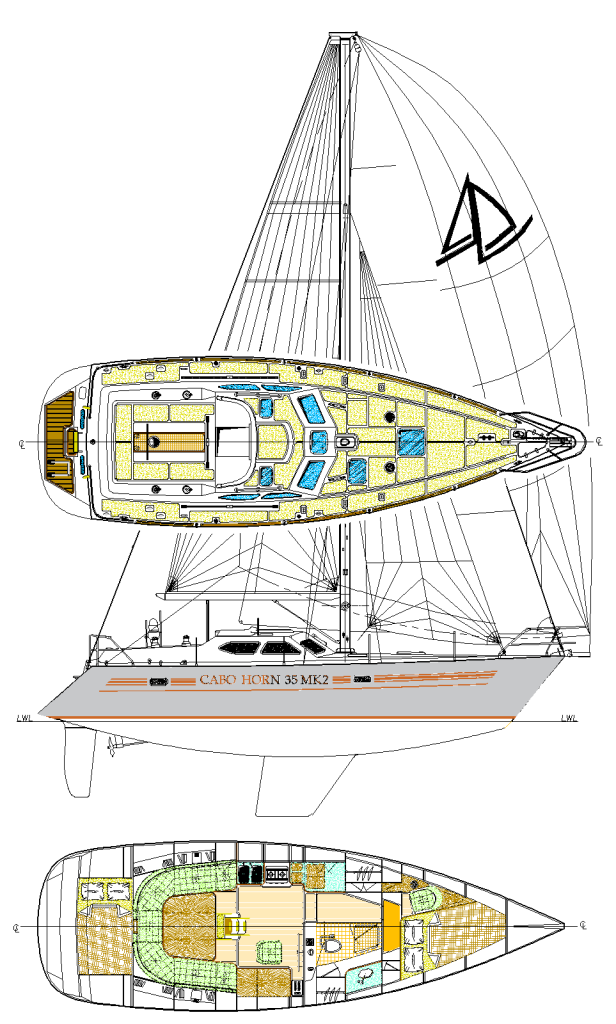 Interior and deck layout:
The interior layout of the Cabo Horn 35 comprises a large private cabin in front, with ample double berth, sofa and a profusion of lockers and drawers. Just aft, to starboard, is placed the head, with shower. Very few boats of this size are so well served with such comfortable bathroom. 
The pilothouse lies behind the mast step. Close to the pilot seat, is placed the navigation station with internal steering, besides a large chart table with plenty of room for installing instruments. On the other side is a good-sized galley, at a privileged place aboard, under the all-windowed pilot-house, a feature seldom offered to the most important crew member, the cook.
The saloon is placed aft, a feature that's not usual but exceptionally comfortable, allowing up to eight adults to be entertained or to share sophisticated meals. Abaft the aft side of the U-shaped dinette backrest is placed another double berth. Two opening ports at the transom ensure good air circulation and allow the users to appreciate the view.
The flush deck in front of the pilot house is unobstructed and ample enough to be used as sunbathing area or even for a luau party. The slightly raised cockpit surrounded by a coaming gives a unique feeling of protection to the crew, especially when sailing in bad weather.
A well-proportioned sail plan, coupled with a low resistance hull, are the main reasons for the Cape Horn 35's excellent performance in all points of sailing. The shallow draught bulbous fin-keel ensures good pointing ability enhanced by a high positive stability.