Comfortable and beautiful trawler suitable for long ocean passages.
The Corruira 42 is a long-range operating trawler with plenty of comfort for a family to live aboard or for offshore fishing trips. The design is of a beautiful classic style that stands out among ordinary trawlers. This is a perfect boat for long distance navigation with safety, comfort and economy.
The construction of this boat is within the reach of the amateur and professional builders with several units built and under construction. The plans are available for steel construction or aluminum.
The hull and propulsion are carefully designed to suit her displacement, what provides the best performance and efficiency possible. That, combined with large fuel and water tanks (2,750 liters of diesel), allows navigating approximately 2,000 miles without refueling. 
A customized version for construction in ply-glass (plywood/epoxy) was developed for the FLAB boatyard who has many successful units build and delivered to satisfied customers. Flab – Unique boats, handcrafted to perfection
*Corruira it is the name of South American bird.
Fresh water tanks Capacity
CORR42 – S1 – Lines Plan
CORR42 – S2 – Deck Layout
CORR42 – S3 – Interior Layout
CORR42 – S4 – Engine Layout
CORR42 – S5 – Structural Arrangement
CORR42 – S5B – Structural Details
CORR42 – S6A – Transversal Sections
CORR42 – S6B – Transversal Sections
CORR42 – S6C – Transversal Sections
CORR42 – S6D – Transversal Sections
CORR42 – S6E – Transversal Sections
CORR42 – S6F – Transversal Sections
CORR42 – S6G – Transversal Sections
CORR42 – S6H – Transversal Sections
CORR42 – S6I – Transversal Sections
CORR42 – S7 – Utilities (Water)
CORR42 – S8 – Bow Roller
CORR42 – S9 – Rudder
CORR42 – S10 – Mast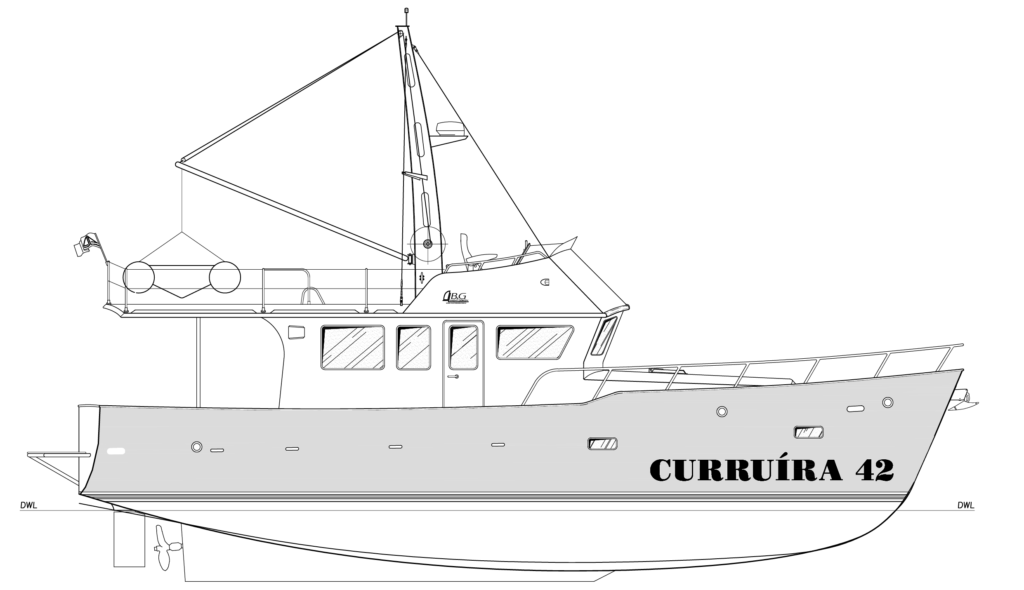 As most trawlers of this size, the Corruira 42 is arranged with its sleeping quarters in the fore compartment, followed by a windowed raised saloon that opens to the aft deck. The fly-bridge over the coach-roof covers the saloon and most of the aft deck.
The part of the saloon designed for entertainment occupies more than half the area of the pilothouse. Seven passengers seat comfortably at the dining table and there are two other armchairs at the other side to complete the living-room accommodations. A complete U-shaped galley, with double sinks, four burner stove with oven, refrigerator and freezer, is placed at portside. There is room for the installation of a washing machine next to the two sinks and a microwave oven can be fixed above these sinks. The piloting station, comprising of navigation table, steering wheel and instruments panel is placed opposite to the galley.
You can choose from two below-deck layouts. In the first one there are sleeping quarters for up to six crewmembers. In this arrangement there are two double berth cabins, one ensuite, and a third one with two single berths. There is a desk with an armchair placed in this cabin and a large hanging locker. There is a second head which is available for guests, and, as well as the other, has a Plexiglas walled shower box.
The second version of the fore-compartment layout has an owner's stateroom served by an ample bathroom, plus another cabin with double-berth. This layout is perfect for families wishing to use the boat as a home, with comfortable quarters and room for kids or eventual guest for short periods.
We gave special attention to the functionality when arranging the aft deck, extending the fly-bridge almost to the stern, providing shade to practically the whole length of such an important leisure area.
The aft deck furniture equals in cosiness and comfort that of the main saloon. There are two L shaped seats, one at each corner of the transom, the starboard one being added by a garden style table with two extra chairs. To make life more enjoyable, a kitchen bench, with sink and refrigerator, is placed at the rear of the saloon aft wall, a step away from the aft deck seats. The cold beer is at an arm's reach. Functionality is the design principle for the fly-bridge. The pilot seat is placed just in front of the auxiliary mast, which main function is to hold a pole intended to be used in hoisting the tender boat to the upper deck. The pilot seat is sided by a pair of double seats, just abaft the fore coaming polycarbonate wind screen.
The pilothouse saloon connects to the exterior by two doors. One of them, the main entrance, is on the saloon's aft wall. The other is placed at the trunk starboard side wall and is handy in giving quick access to the outside in case the helmsman needs to check up a docking manoeuvre. This second exit is also a safety feature.
Propulsion and engine room:
This is a displacement hull with long cruising range (about two thousand miles) proportioning great savings in engine cost and fuel consumption. With one or two engine options and allowing up to two 125 hp inboard engines, the Corruira 42 reaches 10 knots at full speed.
Hybrid propulsion with electric drive mode coupled to the explosion engine is also a possibility. Installing the environment friendly hybrid solution is a break-through in boat propulsion technology. Its adoption brings several advantages, like dispensing another generator for other on-board equipment, besides ensuring silent, pollution-free, propulsion at low speed when employing the electric motor.
The plans for hybrid installation are optional and can be customized for the engine chosen. The adaptation, however, is quite simple and straightforward and there is sufficient space at the engine room for its installation.
Professional Fabrication:
A customized version for construction in ply-glass (plywood/epoxy) was developed for the FLAB boatyard who has many successful units build and delivered to satisfied customers.
https://www.flab.com.br/home-ingles
Construction plans 3 cabins – steel
Construction plans 2 cabins (Optional #1) – steel
Please contact us for aluminium and ply-glass construction.
Please contact us for alternative interior layouts.