Boat Plans - Multichine 41
Strong and seaworthy cruising yacht.
The Multichine 41 is a strong and seaworthy yacht, but at the same time a good performer in all points of sailing.
The inside lay-out is our favourite for this size of boat, with two private cabins and two bathrooms, ample living space and a enclosed galley that is safe to work in even when the boat is facing severe weather conditions
A flush foredeck, small cabin trunk and large cockpit make for a simple and functional deck arrangement. A Bergstrom rig with chainplates placed at the topsides eliminate the use of clumsy genoas. To compensate for the loss in sail area the rig is slightly taller than usual.
An efficient rudder and bulbous shallow draft fin keel ensure an overall performance hard to find in similar designs.
Considering the large water and diesel tanks, the ample space available for gear and supplies, and all the other unique features of this design we are sure that few boats of this size have comparable living aboard facilities.
The fact that the Multichine 45 will beat strong winds and heavy seas efficiently, with plenty of stability and is extremely well balanced, with good course stability and easy steering, makes this boat the best choice for who wants to go anywhere, be it good or bad weather.
Standing Headroom – Saloon
Standing Headroom – Front Cabin
Standing Headroom – Aft Cabin
MC41 – CNC – Transverse Sections
MC41 – S1 – Lines Plan
MC41 – S2 – Mast and Sails
MC41 – S3 – Interior Layout
MC41 – S4 – Deck Layout
MC41 – S6A – Transverse Structure
MC41 – S6B – Structural Bulkheads
MC41 – S6C – Sections C
MC41 – S6D – Sections D
MC41 – S6E – Sections E
MC41 – S7A – Keel
MC41 – S8A – Longitudinal Section at Centreline A
MC41 – S8B – Longitudinal Section at Centreline B
MC41 – S9 – Custom Fittings
MC41 – S10 – Transom Arch
MC41 – S11 – Doghouse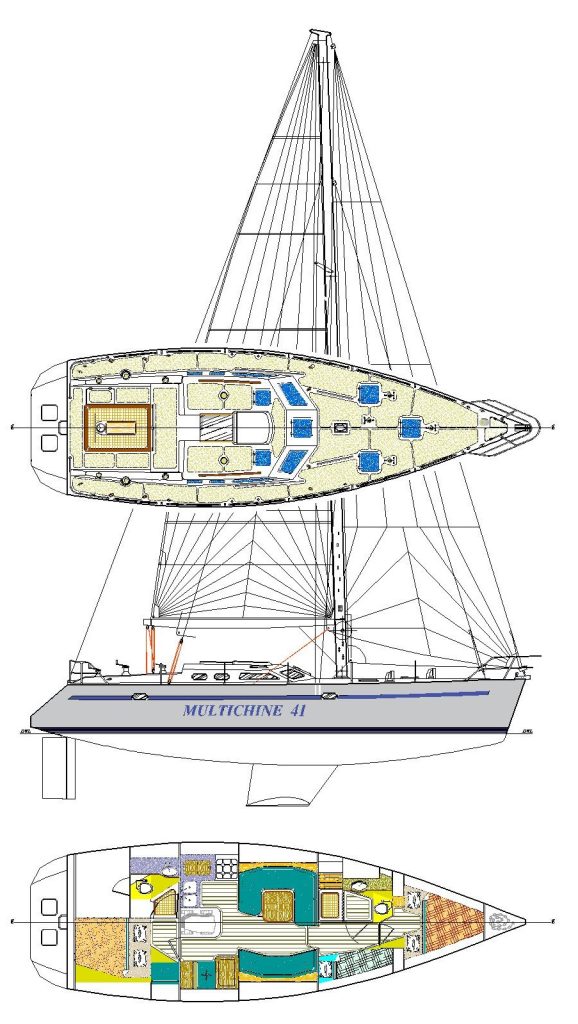 The inside lay-out is our favourite for this size of boat. A forward private cabin is followed by a good-sized head with separate shower. To the other side is placed a single berth. A watertight bulkhead separates the main saloon, elegantly fitted with a U-shaped dinette and a sofa. Aft are placed the galley and the navigation table. Finally, there is the owner's cabin with its private head and shower.