Boat Plans - Multichine 45
A beautiful sailboat for sailing in any latitude in comfort and safety.
The Multichine 45, as is the case with the range of our metallic boat series, is a strong and seaworthy yacht, but at the same time a fast performer in all points of sailing.
With a flush fore deck, an elegant cabin trunk behind the mast, a good-sized cockpit well and a huge transom platform, the Multichine 45 has a very convenient lay-out for extended cruising.
Many other features like large capacity integrated water and fuel tanks, ample space available for gear and supplies, deep bilge with enough space to house a generator, dessalinator, refrigeration and other equipment, and easy access for maintenance place the Multichine 45 very well in its size range.
With different options of deck and interior layout, the Multichine 45 can be as easily a luxurious family yacht or an entry level expedition and charter boat.
The fact that the Multichine 45 is capable of beating in strong winds and heavy seas efficiently, with plenty of stability, and when running free, is extremely well balanced, with good course stability and easy steering, makes this boat a great choice for those who want to be prepared for good or bad weather, either for a family or for an explorer crew, in the tropics or high latitudes.
The various boats built from this design demonstrated a very impressive performance and a seaworthy behaviour above expectations.
Standing Headroom – Saloon
Standing Headroom – Front Cabin
Standing Headroom – Aft Cabin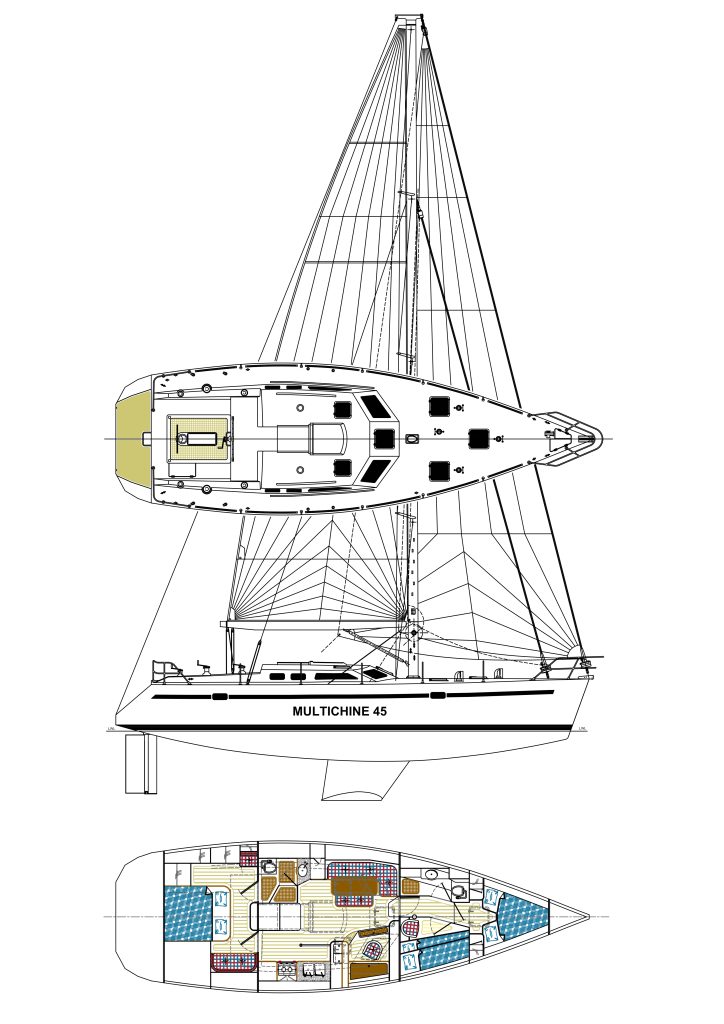 The Multichine 45 is a boat big and strong enough to make expeditions in high latitudes, but also spacious and safe for more conventional cruising, and we have developed different solutions for the layout for each role.
The basic layout makes use of a bridge deck in order to allow the placement of an apartment sized suite with a king size bed, sofa, lockers to spare and a huge bathroom, with separated shower stall. This aft cabin with private bathroom has full headroom and is one does not feel like in a limited space.
The companionway leads to the saloon table to port, with a large dining table and place for 5 to 6 guests to dine in comfort, making use of removable seats on the centreline side of the table.
To starboard there is a large L shaped galley and going aft one enters the above mentioned aft cabin. Forward of the galley there is a spacious office/navigation station, and a bulkhead and door, with a step-down floor, which gives access to the separated forward accommodation, with another full sized bathroom to port, with separated shower stall, two bunk style beds on the passage to starboard, and a double V berth on the private forward cabin. If only two couples are using the boat, this whole forward area can become another large ensuite cabin, with private bathroom. The double bunk beds can be converted to storage and a washing machine fit in the space.
On a more expedition like version, we eliminate the bridge deck for easier access from cockpit to interior, and a more convenient hard dodger with seating space next to the companionway.
There is a choice of twin double cabins, being to starboard one with private head and  to port  a double cabin and head  open to the common area, or a double cabin with private head to starboard, with a L shaped galley to port.
In the twin aft cabin version, the galley is longitudinal, to starboard, opposite the dinette, and a nave station is located between the starboard aft cabin and galley.
In the single aft cabin version, there is a second office space ahead of the nav table, providing two workstations for creative computer work or science projects.
In both versions the arrangement is completed by a private forward area, with a bunk bed to starboard, a complete bathroom with separate shower stall to port and a double V berth at the fore-peak.
Due to its deep bilges, the engine can be located all below the main saloon floor level, resulting in no encumbrance of the interior circulation. The same deep bilges allow for customization of capacities for water and fuel tanks.
Due to the size of this boat, we are open to study alternative interior arrangements with each costumer.
Deck layout, standing rigging and sail plan:
A flush foredeck, small cabin trunk and large cockpit make for a simple and functional deck arrangement. A large cockpit locker and a good-sized stern platform are provided for convenience and easy access to the water. The cockpit seat behind the wheel can be made removable or pivoting to facilitate access to the cockpit.
The Multichine 45 is cutter rigged with spreaders swept aft, a feature that allows dispensing running backstays, a nuisance in cruising sailboats. This rig is simple and efficient, in our opinion the best choice for offshore sailing. The two foresails fitted with roller-furling gear allow for infinity of adjustments, keeping the boat balanced in practically any condition. The mainsail has its foot with moderate dimensions, representing less load on the steering system, especially on the autopilot, besides improving sail handling, mainly when jibing in heavy weather. With average sized sail area, the Multichine 45 is capable of performing good daily runs with minimum stress for the crew.
Keel, rudder and auxiliary propulsion:
The keel is a very successful bulbous shallow draft fin keel design, and the skeg protected rudder has a high aspect ratio for great efficiency. There is an option for a deeper fin keel for better performance.
Together these appendices ensure an overall performance hard to find in similar designs.
Auxiliar propulsion recommended is a 50 to 80 HP diesel engine.
With 1100 l of water and 700 l of diesel fuel, capacities are good for a family ocean voyaging yacht.
CONTACT US FOR DELIVERY SCHEDULE