Boat Plans - Dinghy Andorinha
Build your own high performance sailing dinghy.
If you want to build a dinghy yourself with a short budget, you must consider building the Andorinha. Using plywood and the stich-and-glue construction method, this dinghy is the typical do-it-yourself (DIY) job for the enthusiastic amateur boat builder.
With a self-bailing cockpit, low profile topsides, large transom, huge sail area with main, jib and symmetrical spinnaker, the Andorinha is capable of exhilarating bursts of speed.
The use of epoxy throughout and the fact that hull and deck external surfaces are protected by a fibreglass layer ensures a low-maintenance, long lasting dinghy.
Demonstrating great performance in all points of sail, the Andorinha is a great choice to practice the sport of sailing, be it racing or leisure sailing.
AND – S0A – Full Size Sections A
AND – S0B – Full Size Sections B
AND – S0C – Full Size Sections C
AND – S1 – Lines Plan
AND – S2 – Mast and Sails
AND – S3 – Centreboard and Rudder
AND – S4 – Deck Layout
AND – S5A – Structural Plan
AND – S5B – Structural Details
AND – S6 – Transverse Sections
AND – S7 – Deck Panels
AND – S8 – Hull Panels
AND – S9 – Custom Fittings
AND – S10 – Class Emblem
Amateur boatbuilding is one of the most pleasurable hobbies for people who enjoy making things with their own hands. Designing boats for amateur construction is also fascinating. However, designers involved with this segment of architecture are required to be aficionados, if good results are to be expected.
The hull panels are cut-out in plywood and stitched together. As the panels are pulled into place the hull takes is final form and is ready to be glued and covered with fibreglass.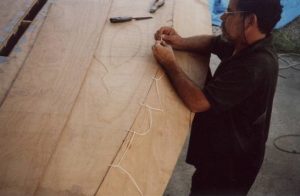 A building manual accompanies the plans, showing, step by step, all phases of the construction.