Dinghy Andorinha - Projeto de Veleiro
Faça você mesmo um veleiro de alta performance.
Este é o barco que projetamos para incentivar a vela e a construção amadora . Sua fabricação ajudada pelo roteiro explicativo é tão fácil que até uma pessoa com pouca habilidade manual pode ser bem sucedida na sua construção.
O processo utilizado é o denominado "stitch and glue" (costure e cole). Literalmente você constrói o barco com agulha e linha. Depois você aplica resina epoxy e fibra de vidro nesses cantos costurados e pronto, seu barco está quase acabado.
Agora, após terminado o trabalho, a grande surpresa vai ser a sua própria performance. Você terá acabado de criar com suas próprias mãos um foguetinho, capaz de dar planadas incríveis, que deixarão longe para trás muitos barcos famosos. . Mas não é somente a sua performance empolgante que lhe irá proporcionar grandes velejadas. Seu amplo espaço no cockpit e uma boa estabilidade graças à sua generosa boca lhe irão proporcionar passeios inesquecíveis.
Sua bolina e seu leme pivotáveis lhe permitirão navegar em águas muito rasas e o seu peso reduzido irá facilitar o seu transporte para qualquer lugar.. Você não tem mais razões para não ter o seu veleiro. Entre nessa onda. Construa logo o seu dinghy Andorinha e descubra uma nova forma de ser livre.
AND – S0A – Full Size Sections A
AND – S0B – Full Size Sections B
AND – S0C – Full Size Sections C
AND – S1 – Plano de Linhas
AND – S2 – Mastro e Velas
AND – S3 – Bolina e Leme
AND – S4 – Arranjo de Convés
AND – S5A – Plano de Estrutura
AND – S5B – Detalhes de Construção
AND – S6 – Seções Transversais
AND – S7 – Painéis do Convés
AND – S8 – Painéis do Casco
AND – S9 – Ferragens Especiais
AND – S10 – Class Emblem
Construção amadora é um ótimo hobby para quem se interessa por trabalho manual.
A construção do dinghy Andorinha é super fácil. Os painéis são desenhados de forma que quando as arestas se juntam eles tomam a forma final do casco. Aí é so costurar para segurar os painéis no lugar e aplicar a fibra de vidro por cima, o que vai manter o barco estanque e com uma durabilidade imensa.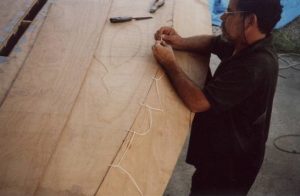 Um manual de construção acompanha o projeto com detalhes de cada passo da construção.