Boat Plans - Bora Bora 28
Easy to build catamaran ideal for inexperienced amateur boat builders.
This easy to build catamaran is intended to allow anyone, no matter their background, to build a modern cruising multihull with a thrilling performance and an appealing design with a small budget.
The Bora-Bora 28 has a very practical interior lay-out with accommodation inside the hulls and a large platform to be used as a sundeck.
The performance of this cat is above average concerning her capacity to sail close hauled. The narrow hulls efficient rudder and centreboards with high aspect ratio sails contributes for the good performance. On the other hand, her comparatively narrow main sail, adds safety once it has less tendency to broach, recognisably the riskiest situation in a multihull.
Bora-Bora is a modern, fast, sensitive, well-balanced catamaran, and to sail her is a delight for any multihull enthusiast.
Maximum Standing Headroom
BB28 – S0A – Full Size Patterns A
BB28 – S0B – Full Size Patterns B
BB28 – S0C – Full Size Patterns C
BB28 – S1 – Lines Plan
BB28 – S2 – Mast and Sails
BB28 – S3 – Interior Layout
BB28 – S4 – Deck Layout
BB28 – S5A – Structural Plan
BB28 – S6 – Transverse Sections
BB28 – S6B – Transverse Sections Plywood Cut-outs
BB28 – S7 – Centreboards and Rudders
BB28 – S7B – Rudder Fittings
BB28 – S8 – Stem
BB28 – S9 – Forestay Support Beam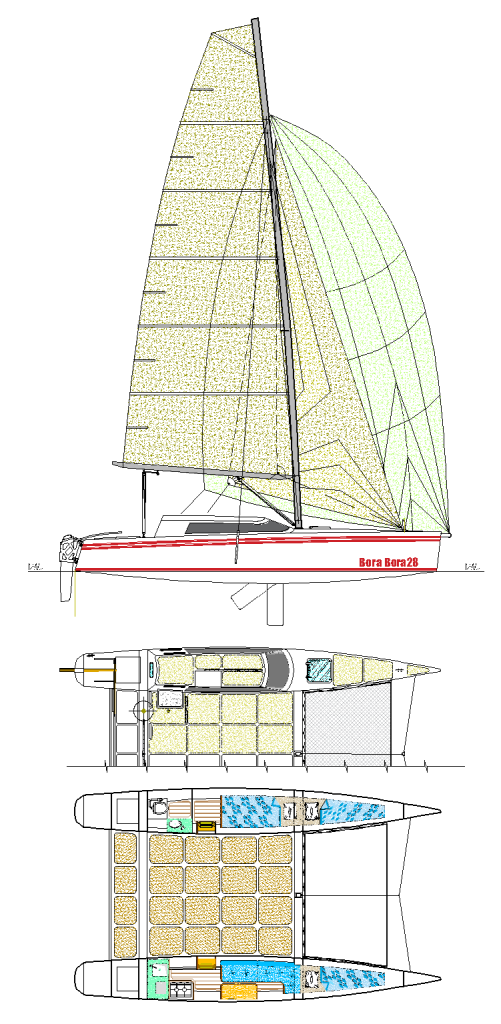 The Bora-Bora 28 has a very practical interior lay-out with accommodation inside the hulls and a large platform to be used as a sun-deck. At the port side is located the head and two bunks, one of them large enough to be used by a couple. The starboard hull houses a very convenient galley with a handy seat for the cook, a dinette with a hinged table and another bunk forward.
The platform between hulls is very spacious and with the help of an awning, may be used as a cosy tent where four adults could sleep.
Rudders and daggerboards:
A swing type centreboard in each hull, along with pivoting rudder blades, allows this cat to float in very shallow waters. As both rudders and centreboards pivot backwards in case of collision, the risk of damage is highly reduced when sailing over shallow sand banks. 
The plans are well detailed, and easy to understand. The construction method is a fibre glass lamination over plywood throughout the boat. The symmetrical hulls are of multichine design and are built using ¼" thick sheets of plywood over 3/8" bulkheads and semi-bulkheads.
The whole interior should be impregnated with epoxy resin prior to the painting process and an important fiberglass lamination, using epoxy resin must be applied externally.
The cross-beams are made of wood using a box-type technique, similar to wooden mast building.