Unlimited ocean aluminium cruising yacht with swing keel.
This design was born from a free-minded interpretation of another design from our office, the MC 36 SK, and the solutions applied were the result of a 10 year, 25000 nautical miles voyage on board a yacht of the same size through some of the most remote and beautiful areas of our planet.
It was evident that a design suited for this kind of voyaging would benefit from very simple, down-to-earth systems that could be repaired in any shop around the world, requiring no special parts or sophisticated labour. But first and foremost, the systems should be so reliable that they would not fail in the first place.
Two remarkable features are the possibility to reduce draught by means of a swing keel, allowing entering into areas with little more than 90cm (35") water depth, and the panoramic view form inside the cabin surrounded by opening hatches. The shallow draught allows entering in anchorages and cyclone holes that would be denied to conventional monohulls of the same size, or would require working the tides, which could demand some waiting in an improper moment or even having to risk a night-time entrance.
The panoramic view from inside the cabin increases safety on passage and provides for a better quality of life onboard, with a sense of increased connection to the outside world. It is also an advantage to be able to check your surroundings from a protected place during demanding anchorage conditions.
The hull and structure have oversized scantlings to offer an extra rugged shell.
The design is specified for aluminium construction and offers the possibility of computer controlled pre-cut of the parts with a CNC kit, which dramatically saves cost and time needed for hull construction.
With a low resistance hull shape, the Kiribati 36 is capable of obtaining good daily runs for its waterline, and still, it makes no concessions regarding safety. The design is rated Class A according to the European Community Monohull Stability Index (STIX) even when the keel is retracted!
2.30 m (7.5 ft) / 0.90m (3.0ft)
Standing Headroom – Aft Cabin
Standing Headroom – Front Cabin
Standing Headroom – Galley
Standing Headroom – Aft shower
KB36 – S1 – Lines Plan
KB36 – S2 – Mast and Sails
KB36 – S3 – Interior Layout
KB36 – S4 – Deck Layout
KB36 – S5 – Structural Plan
KB36 – S6A – Transversal Section A
KB36 – S6B – Transversal Section B
KB36 – S6C – Transversal Section C
KB36 – S6D – Transversal Section D
KB36 – S6E – Transversal Section E
KB36 – S6F – Transversal Section F
KB36 – S6G – Transversal Section G
KB36 – S6H – Transversal Section H
KB36 – S7A – Swing Keel System
KB36 – S7B – Keel
KB36 – S7C – Swing Keel Details
KB36 – S7D – Swing Keel Bearings
KB36 – S7E – Swing Keel Machining Parts
KB36 – S8A – Chain Plates and Bow Rollers
KB36 – S8B – Rudder Tiller Arms
KB36 – S9A – Rudder System
KB36 – S9B – Rudder Construction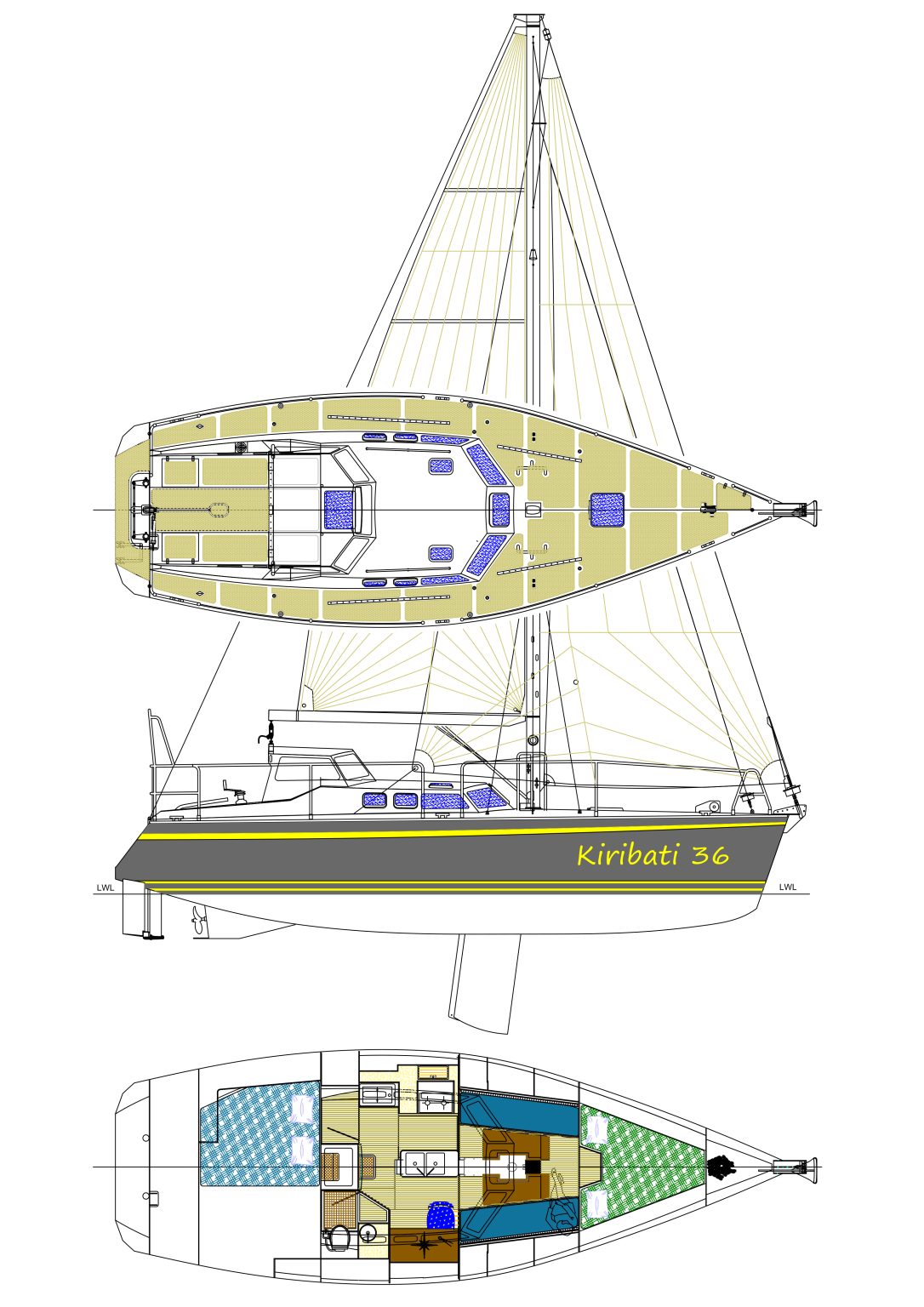 The arrangement is conceived for a couple to live aboard full time with plenty of comfort, either in port, or during extended ocean passages, having accommodations for up to four eventual guests.
Stepping down from the cockpit to port there is a separate cabin aft and a guest double berth forward, being the centre of activity around a raised floor surrounded by opening hatches. In this area one cooks and monitors the boat. To starboard, just aft of the navigation station there is an enclosed head, with full headroom for a shower isolated by curtains.
Another area seldom found on boats of the same size is the one just aft of the head, designated as the boat's technical area, where most through-hull fittings, engine exhaust, autopilot pumps, water-makers and such are to be located. To open a main saloon locker and find the water-maker pump is all too frequent in boats that do not have dedicated areas planned for these items.
Stepping down from the raised floor going forward we have twin sofa bunks, which double as excellent sea berths and an extensive sitting area for the saloon tables, allowing real dinner parties to be had with as many as 8 people sitting.
The Kiribati 36 is a boat big enough to take you and your family anywhere in the world but is still not that big to demand too many of your resources in building and operating her.
Deck layout, standing rigging and sail plan:
The Kiribati 36 has a medium profile cabin surrounded by opening hatches and ports for ample ventilation and luminosity down below.
The cockpit is more than 2.80m long, protected by a hard dodger which takes the mainsail sheet on its roof, leaving the area free of line clutter.  There is an easy access to the swim platform from the open cockpit, which is kept unencumbered due to the lifting tiller steering, which can be kept out of the way while anchored or moored.
The rig is a conservative twin spreader mast with 90º spreaders and double lower shrouds. A jumper eliminates the need for running back stays when using the staysail attached to the inner fore-stay.
The sail plan includes main and genoa of moderate dimensions for ease of handling and a staysail for fresher conditions. The easily deployable staysail can make the difference between an uneventful and safe passage and a bad experience when the going gets tough with fresh winds. A removable bow sprit can be added for a light air sail to be deployed.
There is a huge boat wide aft lazarette separated from the interior by a complete transversal watertight bulkhead, where all necessary deck gear can be stored without filling up the interior accommodation spaces and to port a separated gas and flammable items locker.
The mast is protected by guards for safe sail handling in rough weather, and the flush deck ahead of it can receive a dinghy on passages. Special care was used when designing the oversized anchor chain locker, one seldom seen in boats of its size, providing for hands free anchoring due to the large drop afforded to the chain.
Swing-keel, rudders and auxiliary propulsion:
The swing keel is lifted by means of a manual winch linked to it by two separate high strength synthetic cables. In case of collision, the keel is free to lift without finding resistance from the lifting system. This is a very important safety device in swing-keel design. The twin rudders work behind skegs, which have the double role of improving steering performance and of protecting the rudder when aground. The capability of beaching the boat on suitable ground is one of the great features of the design, and it can be performed as many times as required without any harm to the boat.
The shallow draught allows entering in anchorages and cyclone holes that would be denied to conventional monohulls of the same size, or would require working the tides, which could demand some waiting in an improper moment or even having to risk a night time entrance.
The static stability is guaranteed by 1500kg of internal ballast and 1080 kg of movable ballast inside the swing keel.
The Kiribati 36 can also be built as a fixed fin keel yacht with a single central rudder, for those who do not need the shallow draft capability.
True to its expedition boat vocation, the Kiribati 36 has large tank capacities, with 470l of fresh water and 410l of diesel fuel, and very large storage spaces.
Ideal auxiliary propulsion will be from 40 HP.
The Kiribati 36 is truly a go anywhere boat, developed with our many years of experience and the input from our most accomplished customers.
Construction kits cut from the CNC files can be provided in Australia by Plate Alloy:
Construction plans (Swing Keel)
CNC Files (swing keel version)
Construction plans (Fixed keel)
*please contact our office for delivery schedule
CNC Files (fixed keel version)
*please contact our office for delivery schedule