Unlimited ocean cruising yacht with swing keel. Aluminium construction.
The Polar 44 is a good option in our line of polar capable cruisers, not so big as the Polar 65 and 50, that carried famous explorers to Antarctica and the Arctic, but with a size that already affords serious long range expedition capability. The Polar 44 can be a good option for budget conscious adventurers or even as the definitive family long range cruiser.
The Polar 44 hull has good sailing performance, with modern lines and a wide stern, which also allows very roomy interiors. The design is intended for aluminium construction, with robust scantlings to endure any kind of rough weather found in high latitude sailing.
Designed with a swing keel, the Polar 44 can reach significantly shallow drafts what allows for safe anchorage in areas prone to icebergs. A special feature of the swing keel system is that it offers greater safety in case of unexpected grounding and collisions, avoiding damage to the hull.
The Polar 44 is truly a go anywhere boat, developed with our many years of experience and the input from our most accomplished customers.
We offer the plans and CNC kit for aluminium construction.
PL44 – S1 – Lines Plan
PL44 – S2 – Mast and Sails
PL44 – S3 – Interior Layout
PL44 – S4 – Deck Layout
PL44 – S5 – Structural Plan
PL44 – S6A – Transversal Section A
PL44 – S6B – Transversal Section B
PL44 – S6C – Transversal Section C
PL44 – S6D – Transversal Structural Section A
PL44 – S6E – Transversal Structural Section B
PL44 – S6E – Transversal Structural Section F
PL44 – S7A – Keel System
PL44 – S7B – Keel Construction
PL44 – S7C – Keel View
PL44 – S8A – Rudder/Steering Systems
PL44 – S8B – Rudder Construction
PL44 – S8C – Rudder View
PL44 – S9 – Chainplates
PL44 – S10 – Engine Layout
PL44 – S11 – Arch
PL44 – S12 – CNC
PL44 – S13 – CNC View
PL44 – S14A – Construction Jig
PL44 – S14B – Assembly of Construction Jig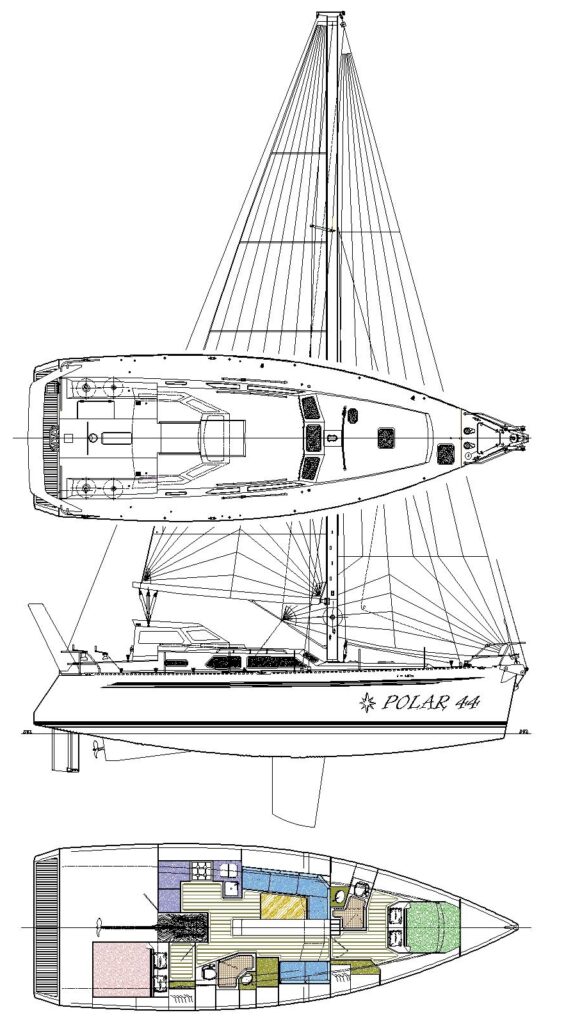 We offer several different versions for the interior layout. From a three cabin / two head to a more expedition like two cabin/two head version, with lots of storage for spares, supplies and gear, the owner of the Polar 44 can tailor this boat to his/her exact needs.
Due to the size of this boat and the range of possible sailing styles it can be used for, we decided to be flexible and study with each owner the best interior layout, even though we have a few pre-designed suggestions.
The standard layout has two double cabins and two heads. When coming down from the companionway ladder, to port there is a complete U shaped galley with plenty of working surfaces and a safe position for the cook under way. Directly in front of the galley with easy access, a 4 position dining table to one side of the swing keel trunk.
To starboard of the companionway there is a double cabin going aft and a complete head.
Going forward on the starboard side there is an aft facing nav station and double sofa. The master stateroom occupies the whole area forward of the mast, with a centreline bed with partial side access, an ensuite head to port and separate shower stall to starboard.
Deck layout, standing rigging and sail plan:
The Polar 44 has a moderate profile cabin and coach roof (There is a Polar 44 DS version as well, with an extended cabin height and width that allows a raised saloon to be incorporated into the design), with ample ventilation and luminosity.
The cockpit is more than 2.70m long, protected by a hard dodger which takes the mainsail sheet on its roof, leaving the area free of line clutter. There is an easy access to the swim platform from the open cockpit, which can be closed by a folding seat.
The hydraulic steering is installed on a conventional pedestal, with option for a cable steering system that makes wind vane steering also possible.
The rig has a twin back swept spreader arrangement, with permanent installation for two foresails, a 120% jib and a self-tacking staysail jib.
All lines are led aft to the two coaming mounted winches, with no lines under the hard dodger, offering a dry and clutter free watch position, where books and electronics can be kept safe under way. We recommend the installation of the outside electronics in this dry space under the dodger, where they can be operated from a safe and dry place.
For added safety the anchoring arrangement allows two primary anchors to be installed permanently at the bow, with two anchor winches for redundancy.
Swing-keel, rudders and auxiliary propulsion:
The swing keel is lifted by means of a hydraulic piston linked by two separate high strength synthetic cables. In case of collision, the keel is free to lift without finding resistance from the piston. This is a very important safety device in swing-keel design. The twin rudders work behind skegs, which have the double role of improving steering performance and of protecting the rudder when aground. The capability of beaching the boat on suitable ground is one of the great features of the design, and it can be performed as many times as required without any harm to the boat.
The static stability is guaranteed by 2500kg of internal ballast and 1195 kg of movable ballast inside the swing keel.
The Polar 44 can also be built as a fixed fin keel yacht with a single central rudder, for those who do not need the shallow draft capability.
True to its expedition boat vocation, the Polar 44 has large tank capacities, with 1570l of fresh water and 1200l of diesel fuel, and really large storage spaces.
Ideal auxiliar propulsion will be 70HP, with the boat expected to move at X.X knots in calm waters.
The Polar 44 is truly a go anywhere boat, developed with our many years of experience and the input from our most accomplished customers.
Construction plans – lifting keel
Construction plans Lifting Keel with shallow rudder
Construction plan – fixed keel
*Please contact our office for delivery schedule
*Please contact our office for delivery schedule
Construction plans with optional interior layout
*Please contact our office for delivery schedule