Unlimited ocean aluminium cruising yacht with twin bulb keels.
Pop from popular and Alu from aluminium construction, two terms that so far have been considered incompatible, but that this design aims to reconcile.
The Pop Alu 32 design brings the safety and longevity of an aluminium hull to a size range that has surprisingly few designs available for the amateur or small boatyard builder.
A Delta hull form with a large floatation plane gives the boat a very high initial stability, meaning less heeling and more performance and comfort, and vertical topsides make the boat easy to build while keeping the forms easy on the eye and creating an amount of internal volume that makes this boat as roomy as the average 36 footer.
And furthermore, this design seeks to transform the building process into an efficient operation that will lead to a finished boat in record time at reasonable costs. For this end we offer a building jig and a quick assembly method, with the hull built already in the upright position.
With a 8mm ( 5/16") thick hull underwater and the twin bulb keels and rudders that allow shallow draught freedom, the Pop Alu 32 emphasizes safety and accessibility, both in navigation and maintenance chores.
Thick shell plating allows for better and easier welding and a minimal internal structure, offering the builder great savings in material and labour costs.
The boat can rest on the twin keels when the tide goes low or when on a hardstand, and with only 1.28m ( 4.2') draught can reach storm heavens and cruising grounds out of reach from more conventional boats of the same size.
Being able to dry out on a low tide, the maintenance below the waterline can be done at minimal costs.
A panoramic view from inside the cabin is another feature that adds to the quality of life and safety on board, allowing ample ventilation and natural light to enter the boat.
The Pop Alu 32 can be an efficient long-range cruising platform, offering safe passages while keeping running costs low.
We offer the construction plans and also CNC cutting files for the aluminium structure and interior joinery, all included in the same package.
140 to 200 l (37 to 53 gal)
Standing Headroom – Aft Cabin
Standing Headroom – Galley
Standing Headroom – Aft Shower
PA32 – S1 – Lines Plan
PA32 – S2 – Mast and Sails
PA32 – S3 – Interior Layout
PA32 – S4 – Deck Layout
PA32 – S5 – Structural Plan
PA32 – S6A – Transversal Sections Interior A
PA32 – S6B – Transversal Sections Interior B
PA32 – S6C – Transversal Sections Interior C
PA32 – S6D – Transversal Sections Structure D
PA32 – S6E – Transversal Sections Structure E
PA32 – S6F – Transversal Sections Structure F
PA32 – S7A – Twin Keels
PA32 – S7B – Keel Construction
PA32 – S8A – Steering System
PA32 – S8B – Steering System Details
PA32 – S8C – Steering System Details
PA32 – S8D – Steering System Details
PA32 – S9A – Chainplates and Bow Rollers
PA32 – S10 – Building Jig
PA32 – S11 – Autopilot and Wind Vane Installation
PA32 – CNC1 – CNC Kit Files Layout
PA32 – CNC2 – CNC Kit Assembly
PA32 – CNC-INT1 – CNC Kit Joinery Files Layout
PA32 – CNC-INT2 – CNC Kit Joinery Assembly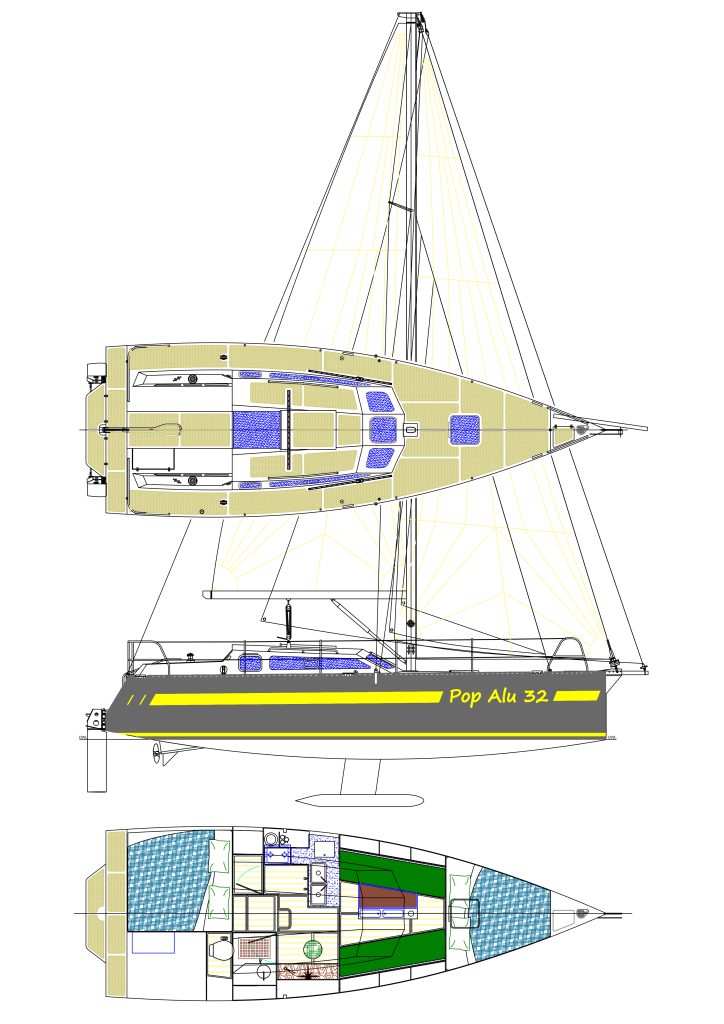 The interior arrangement is generous for a 32 footer. Bunks 2 meters (6' 7") long and saloon setees as well, a head with good foot room, a nav station table that can become an office, with 1.10 x 0.55 meters ( 43" x 22") and a L shaped galley with lots of countertop space.
Coming down from the companionway hatch we reach the galley to port and nav station to starboard. To the stern there is a double cabin to port and the head to starboard.
Ahead of the galley and nav station two comfortable sofas flank a table large enough to accommodate five people for dinner, being one seated on the contiguous forward open cabin bed, which is very spacious for a couple.
All these features compare in size to bigger boats due to the beam carried aft characteristic of this type of hull and more vertical sides towards the bow.
Deck layout, standing rigging and sail plan:
The Pop Alu 32 has a medium profile cabin surrounded by windows and opening portlights for ample ventilation and luminosity down below.
There is a 2m long cockpit with parallel sides that is kept free from clutter when the tiller is raised in port, and easy access to the stern platform and water.
Accessed from the cockpit there is a large lazarette that can accommodate lots of gear and holds the main fuel tank.
Forward of the mast the deck is flush and quite ample for accommodating the crew for an animated sundown.
A large chain locker holds enough ground tackle to cope with demanding anchoring situations.
The mast has double back swept spreaders with the provision for an inner fore-stay.
The sail plan has a Bermudan main sail and a 110% jib, with the options for a staysail set on the inner fore-stay for added safety on offshore passages and a reacher set on a removable bowsprit.
Twin Keels, rudders and auxiliary propulsion:
The Pop Alu 32 is fitted with twin bulb keels, designed with simplicity of construction in mind. They allow shallow draft without moving parts, a very convenient combination.
Being able to dry out on a low tide, the maintenance below the waterline can be done at minimal costs.
The bulbs leading and trailing edges are from machined solid aluminum alloy rod, and flat or single curvature plates are all what is required in addition to the lead ballast. Each keel weighs a little more than 600 kg (1320 lb), which helps handling them during construction.
The rudders are two with high aspect ratio, transom hung and with a very simple and robust system. Reliability and easy maintenance are strong points here. Between the twin rudders there is a pivoting stern platform. They offer exceptional control, both ahead and reversing, which is hard to achieve in twin rudder boats.
The shallow draught allows entering in anchorages and cyclone holes that would be denied to conventional monohulls of the same size, or would require working the tides, which could demand some waiting in an improper moment or even having to risk a night-time entrance.
Ideal auxiliar propulsion will be from 20 to 30 HP.
*CNC files are part of the construction plans (twin keels and interiror joinery included)