Trailerable boat for high performance and versatile day sailing.
The Pop Star 21 is a versatile and practical day sailing boat. The equipment is simple to assemble and disassemble so you can save time while getting ready to start sailing. The boat is trailerable and can be kept at home and be taken to different places. Last, but not least, it is fun to sail, either for enjoying a day-sail with family or friends, spending the night on the far shore of the lake or experiencing the thrill of high performance when having a competitive crew onboard.
The hull has a modern multichine shape with flat bottom and wide stern, with an almost vertical bow and sharp angled forward waterlines that cut the seas effortlessly, the dead-rise aft is very smooth to reduce drag and facilitate planning. For easiness of construction the hull is designed with five panels only, the bottom one being flat transversally, two topsides with very short flair, and two small bilge panels.
If you are looking for a small and simple boat for day-sailing with your family, or to feel the thrill of top sailing performance, or yet are searching an easy to set and transport sailboat that you can take to different places, or a bit of all that, the Pop Star 21 might be the boat you are looking for.
0.36 m / 1.51 m (1' 2" / 4' 11")
PS21 – S1 – Lines Plan
PS21 – S2A – Mast and Sails A
PS21 – S2B – Mast and Sails B
PS21 – S3A – Rudder and Tiller
PS21 – S3B – Tiller Fittings
PS21 – S3C – Rudder Fittings
PS21 – S4 – Deck Layout
PS21 – S5 – Structural Plan
PS21 – S6A – Transverse Sections A
PS21 – S6B – Transverse Sections B
PS21 – S7A – Keel
PS21 – S7B – Keel Assembly
PS21 – S7C – Keel System Pieces
PS21 – S8 – Custom Fittings
PS21 – S9 – Cradle – Aluminium
PS21 – S10A – CNC Cutting Files
PS21 – S10B – CNC Kit Assembly
Cutting Files (CNC) – 16 files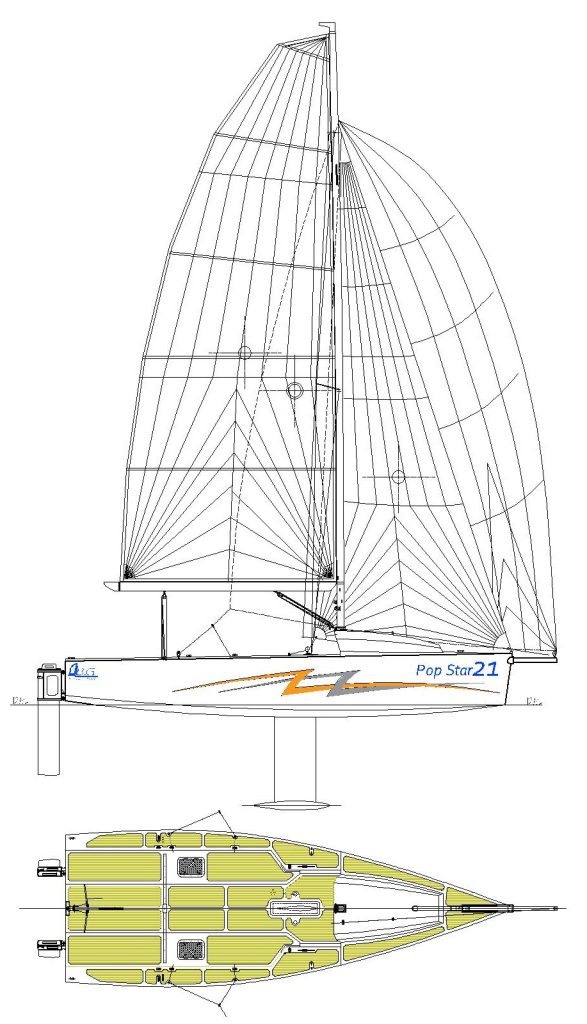 The superstructure has a cuddy cabin in front of the mast, intended mainly to store sails and equipment while not in use, but with enough space to be used as a bunk to rest on or spend a night on a camping like style.
Deck layout, standing rigging and sail plan:
The most valuable part of the deck is the cockpit, which goes from the cabin entrance at the mast station to the transom. There are two seats at a lower level, these seats being more comfortable when leisure sailing, and two higher ones at sheer level for the crew to sit and hike in heavy winds, to be used when trying to achieve the highest performance possible.
The sail plan has a large mainsail, a 110% fractional jib and a gennaker, this one hoisted from the tip of a retractable bowsprit. For those who prefer relaxed sailing there is the option of using a mainsail of less roach and smaller area, and to suppress the gennaker. The mast has one pair of spreaders and can be pivoted on its base to be lowered when passing under bridges. This is done by removing a single pin, and it can also be taken off for transport or storage.
Lifting keel, rudders and auxiliary propulsion:
The keel weighs 110kg with 85% of this weight at the bulb, so to increase stability and efficiency without increasing weight. It can be lifted to reduce draught to simplify the operation of launching and retrieving the boat from the water using the trailer. The lifting device is removable and can be stored inside the cabin when not in use, so it does not hinder the crew circulation on the cockpit while sailing.
We chose to install twin rudders to improve manoeuvrability and steering control even in the hardest conditions. The rudder blades can also be lifted to reduce the boat's draught.
When sailing in shallow depth areas, as when exploring rivulets or regions where sailing is not possible, we designed the tiller base fitting with a bracket for a low power outboard motor.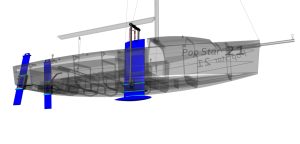 The rudder and keel can be lifted to simplify the operation of loading and unloading from the trailer and to reduce draft.
CNC Files included in Construction Plans