Boat Plans - Southern Voyager 28
Simple and comfortable trawler.
Presently, more and more yachtsmen are discovering the advantages of trawlers as leisure yachts. Trawlers are safe and easily maintained and they are, above all other things, very comfortable for their size.
The lay-out of the Southern Voyager 28, although simple, is quite comfortable for a 28 footer. The boat has good seagoing performance and is suitable for fishing, chartering, diving and many other activities.
Considering the simplicity of its construction and the compact size of this trawler, the Southern Voyager 28 is the best choice for those who are looking for an affordable boat to build, that will provide innumerable moments of pleasure.
As is the case with most of our designs, the Southern Voyager 28 is intended for the professional boat builder as well as the amateur.
Standing Headroom – Pilot House
Standing Headroom – Cabin
Standing Headroom – Aft Cabin
SV28 – S0A – Full Size Patterns A
SV28 – S0B – Full Size Patterns B
SV28 – S0C – Full Size Patterns C
SV28 – S0D – Full Size Patterns D
SV28 – S0E – Full Size Patterns E
SV28 – S0F – Full Size Patterns F
SV28 – S1 – Lines Plan
SV28 – S2 – Deck Layout
SV28 – S3 – Interior Layout
SV28 – S4 – Rudder
SV28 – S5 – Structural Plan
SV28 – S6A – Transverse Sections A
SV28 – S6B – Transverse Sections B
SV28 – S6C – Transverse Sections C
SV28 – S7 – Custom Fittings (Stem)
SV28 – S8 – Engine Installation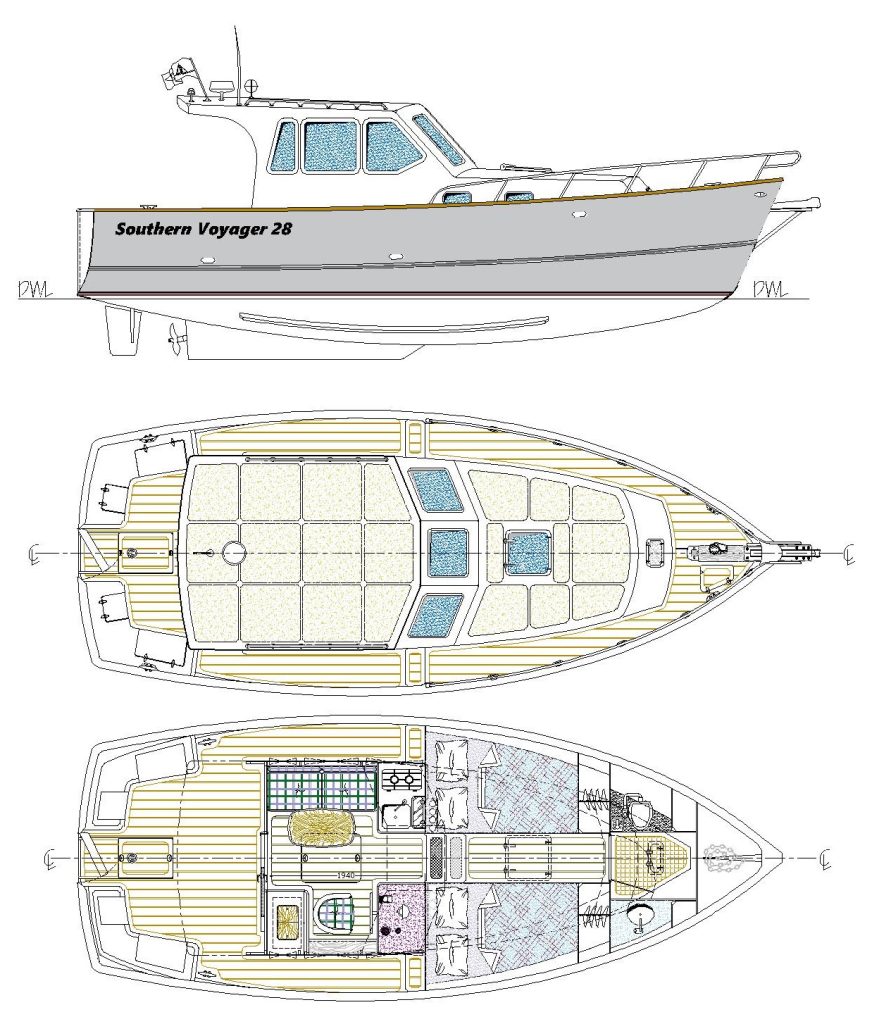 To ensure adequate headroom, the heads is placed under the foc's'l, separated from the main saloon by two lockers abaft a bulkhead. This entertaining area is also the sleeping quarters onboard. The two sofas back rests pivot to become two upper berths. A three steps ladder separate the main saloon from the pilot house. The raised saloon complies a navigation station at port side and a compact galley at starboard with a sofa for two persons abaft the galley counters. A table which slides vertically around a column is a cosy feature that brings a touch of class to this compartment.
Outside the pilothouse there is an ample after deck with two longitudinal seats, the right place for socialising or catching a fish for the next meal. The self-draining after deck is the preferred place aboard whenever the weather is fine. An almost permanent awning is welcome on hot summer days or when it's raining.
The Southern Voyager 28 has plenty of open space abaft the cabin, what's ideal for socialising, fishing or for storing diving equipment.
A platform with swimming ladder abaft the transom is very handy when coming aboard, or as a diving base.
The Southern Voyager 28 has a round bilge hull to be built in strip-planking or fibreglass sandwich, with deck and superstructure made from marine plywood covered with glass cloth saturated with epoxy resin.