Trawler econômico e confortável.
Esse projeto tem o que as pessoas mais desejam a bordo de uma traineira de recreio, que é conforto e boas qualidades marinheiras, para que o seu passeio ou pescaria sejam o mais agradáveis possível..
A Southern Voyager 28 é uma embarcação fácil e barata de construir. O produto final é um barco excelente para cruzeiros em família, para pesca esportiva, turismo náutico e ideal para um operador autônomo de mergulho ou até para transporte de pequenas cargas
O arranjo interno tem capacidade de acomodar até seis pessoas para pernoites.
Uma das vantagens do conceito utilizado no projeto da Southern Voyager 28 é a motorização barata e de baixo consumo.
Comprimento da linha d'água
Pé-direito - Cabine de Popa
SV28 – S0A – Full Size Patterns A
SV28 – S0B – Full Size Patterns B
SV28 – S0C – Full Size Patterns C
SV28 – S0D – Full Size Patterns D
SV28 – S0E – Full Size Patterns E
SV28 – S0F – Full Size Patterns F
SV28 – S1 – Plano de Linhas
SV28 – S2 – Arranjo de Convés
SV28 – S3 – Arranjo Interno
SV28 – S4 – Leme
SV28 – S5 – Plano de Estrutura
SV28 – S6A – Seções Transversais A
SV28 – S6B – Seções Transversais B
SV28 – S6C – Seções Transversais C
SV28 – S7 – Ferragens Especiais (proa)
SV28 – S8 – Instalação do motor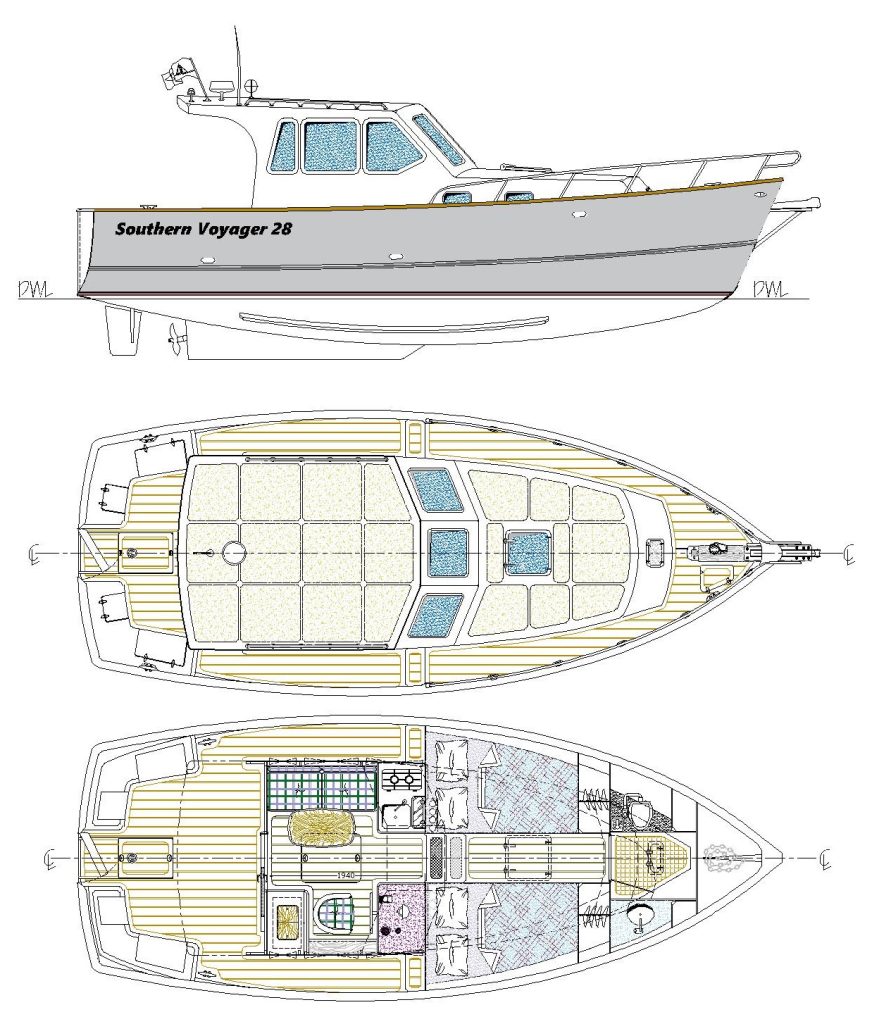 To ensure adequate headroom, the heads is placed under the foc's'l, separated from the main saloon by two lockers abaft a bulkhead. This entertaining area is also the sleeping quarters onboard. The two sofas back rests pivot to become two upper berths. A three steps ladder separate the main saloon from the pilot house. The raised saloon complies a navigation station at port side and a compact galley at starboard with a sofa for two persons abaft the galley counters. A table which slides vertically around a column is a cosy feature that brings a touch of class to this compartment.
Outside the pilothouse there is an ample after deck with two longitudinal seats, the right place for socialising or catching a fish for the next meal. The self-draining after deck is the preferred place aboard whenever the weather is fine. An almost permanent awning is welcome on hot summer days or when it's raining.
Arranjo de Convés, propulsão e leme:
O pilot house se abre para a praça de popa, onde dois confortáveis assentos fazem um terceiro ambiente aberto para o exterior. A popa abre-se para uma plataforma de embarque, e por essa passagem drena a água que passa pelo convés.
A propulsão sugerida é a de um motor de dois cilindros com potência entre 18 e 30 HP. O túnel do eixo de propulsão esta contido num skeg, o que é uma solução prática e confiável. O leme com eixo telescópico está conectado à roda de leme pôr intermédio de uma transmissão hidráulica ou pelo sistema mais convencional de cabos e roldanas.
O sistema construtivo adotado é o strip-planking colado sobre cavernas, ou se houver preferência, pode ser também construído em strip-planking com fibra de vidro, interna e externamente, podendo o strip ser de madeira leve ou espuma de PVC, ou ainda em fibra de vidro maciça. Convés, mobília e casario são especificados para construção em compensado naval revestido com fibra de vidro. Este processo é recomendado para todos os sistemas de construção do casco.