Unlimited ocean aluminium cruising yacht with twin bulb keels.
We designed the Pop Alu 28 as a small sized world cruiser, bringing the safety and longevity of an aluminum hull to a size range that has surprisingly few designs available for the amateur or small boatyard builder.
The modern delta hull form and lines and generous sail plan will make the Pop Alu 28 an exciting boat to sail, with safety enough for unlimited ocean passages granted by its Class A rating on the monohull stability index. For those that want even shallower draft, we can offer a class B version.
There are two closed collision bulkheads, one total, about 30 cm aft of the stem, and one partial, with a sealed bottom under the anchor well. With strong structure and 8mm in the bottom panel, 6mm in the sides and 5mm in the deck, the Pop Alu 28 is very robust while maintaining a simple construction with a limited number of parts when compared to traditional thin plated aluminum construction.
Thick shell plating allows for better and easier welding and a minimal internal structure, offering the builder great savings in material and labour costs.
The hull is built already in the upside position, eliminating the need for the costly hull turning operation.
The boat can rest on the twin keels when the tide goes low or when on a hardstand. Being able to dry out on a low tide, the maintenance below the waterline can be done at minimal costs.
The Pop Alu 28 can take a couple on a long range voyage and receive the eventual guest couple with good comfort.
We made provision for an electric auxiliar engine but regular diesel engine installation is also possible.
We offer the construction plans and also CNC cutting files for the aluminum structure and interior joinery, all included in the same package.
Standing Headroom – Aft Cabin
Standing Headroom _ Galley
8 hp electric to 15 hp diesel
PA28 – S1 – Lines Plan
PA28 – S2 – Mast and Sails
PA28 – S3 – Interior Layout
PA28 – S4 – Deck Layout
PA28 – S5 – Structural Plan
PA28 – S6A – Transversal Sections Interior
PA28 – S6B– Transversal Sections Structure
PA28 – S6C – Transversal Sections Structure
PA28 – S7A – Twin Keels
PA28 – S7B – Keel Construction
PA28 – S7C – Keel Details
PA28 – S8A – Steering System
PA28 – S8B – Steering System Details
PA28 – S8C – Steering System Details
PA28 – S8D – Steering System Details
PA28 – S9 – Chainplates and Bow Rollers
PA28 – S10 – Building Jig
PA28 – CNC1 – CNC Kit Files Layout
PA28 – CNC2 – CNC Kit Assembly
PA28 – CNC3 – CNC Kit Layout and Assembly Appendages
PA28 – CNC-INT – CNC Kit Joinery Files Layout and Assembly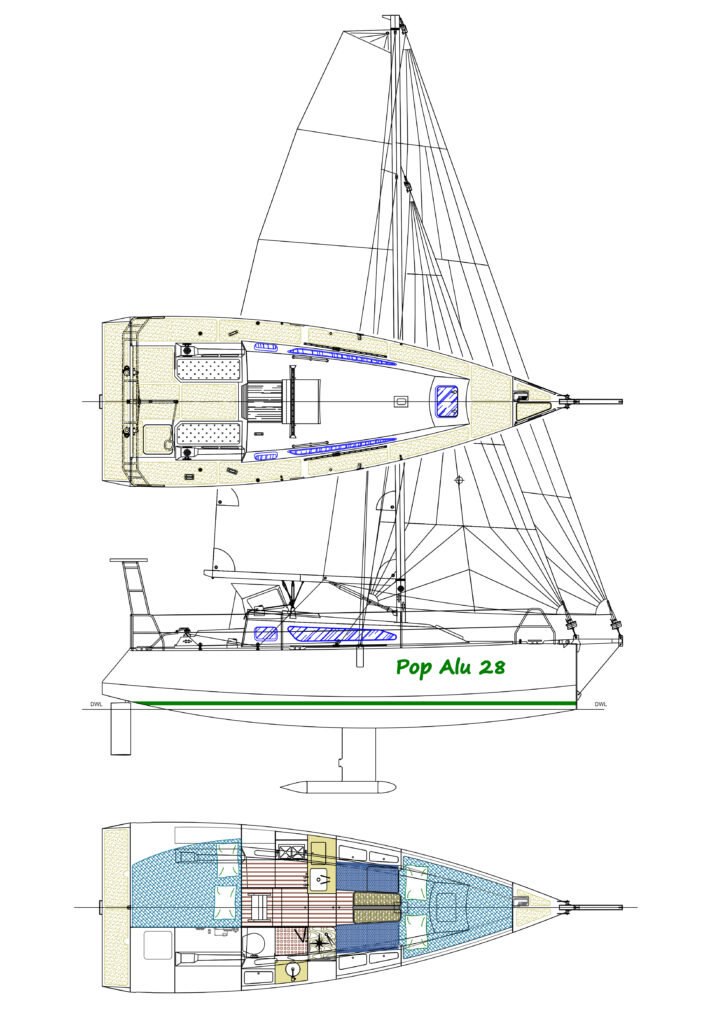 Just down from the companionway, to port there is an aft cabin with double berth separated from the main ambient by a curtain, and just next to it we have a galley with two burner alcohol stove and sink with storage space. To Starboard we have the navigation and office space table with dedicated locker for electrics and electronics and a head compartment just behind it. The navigator can sit on the Starboard sofa facing the navigation table.
Going forward we have a double V berth and a comfortable saloon with 5 places, because one guest can seat in the forward bed, as we structured the mast frame in a way to obviate the need for a mast column, leaving the entrance to the forward cabin totally free.
Behind the sofas there is storage space on both sides, and under them there are water tanks totalling 365 litres in the aft portion and the house batteries ahead of them.
Deck layout, standing rigging and sail plan:
he Pop Alu 28 has a T shaped cockpit with lots of space to stand outside. The steering is made by a tiller with extension, and the helmsman can sit in either side of the cockpit and have full view and control.
There is easy access to the water with a stern platform easily reached from the cockpit.
Completing the internal gear storage there is a sealed cockpit locker accessed through a watertight hatch on the floor to Starboard and two open side lockers.
The anchor rode well is also generously proportioned, and a space for a manual windlass is provided (electric windlass could be installed for diesel powered versions or if a backup petrol generator is present).
The mast has double back swept spreaders with a fractional jib and a fixed bowsprit and bobstay.
The sail plan has a square top full batten mainsail, a jib and a reacher on a permanent bow-sprit, both fitted on roller furlers, enabling easy adjusting of the sail area to the prevailing conditions. A gennaker or asymmetrical spinnaker can also be added for light conditions or by the more performance-oriented sailors.
Twin Keels, rudders and auxiliary propulsion:
The Pop Alu 28 is fitted with twin bulb keels, designed with simplicity of construction in mind. They allow shallow draft without moving parts, a very convenient combination.
Being able to dry out on a low tide, the maintenance below the waterline can be done at minimal costs.
The bulbs leading and trailing edges are from machined solid aluminum alloy rod. Each keel weighs 527kg (1160 lb), which helps handling them during construction.
We decided to offer the Pop Alu 28 as a compact blue water, all weather cruising boat, capable of cruising the world´s oceans in total safety. The design meets the criterion from the European Community for open water, being in class A according to the Monohull Stability Index (STIX).
To achieve this, the Pop Alu 28 has twin bulb keels a little deeper than the Pop 25 and Pop Alu 32, but still a low draft of a little more than 1.50m ( less than 5 Ft) . All the advantages of easy beaching for maintenance are still present. Upon request we can offer a shallower keel.
 For good control there are twin high aspect ratio spade rudders of robust aluminum construction, with a simple and easy to access tiller linking system.
The rudder telescopic tubes are located behind the transom, inside a sealed compartment under the stern platform, minimizing any chance of flooding even when catastrophically tearing a rudder away due to collision with floating debris or grounding.
We fitted the Pop Alu 28 with an arch in the stern to receive two 140 Watt solar panels because we specify an electric outboard engine as main motorization option. With two 24 V lithium batteries and the solar panels, there is enough reserve for port manoeuvring.
Petrol outboards or even a 15HP inboard diesel sail drive can be accommodated for those who want greater motoring range.
CNC files are part of the construction plan, keels and joinery CNC included.