Veleiro de cruzeiro elegante, confortável e robusto.
Denominamos com a marca Cabo Horn nossa linha de projetos capazes de realizar as mais radicais aventuras marítimas com alto grau de segurança. O Cabo Horn 40 possui um casco de fundo redondo com linhas extremamente suaves. Seu calado efetivo de 1.85m pode ser considerado baixo para um veleiro de quilha fixa desse porte.
Esse projeto se enquadra na classificação de veleiro de alto mar "Categoria A" conforme as normas de estabilidade para veleiros monocasco da Comunidade Europeia (STIX). Com uma estrutura superdimensionada, e uma relação deslocamento/lastro bastante favorável, o barco construído de acordo com as especificações do projeto será adequado para realizar expedições em qualquer lugar do mundo.
Comprimento da linha d'água
Capacidade dos tanques de água doce
Pé-direito - Cabine de Proa
Pé-direito - Cabine de Popa
Strip planking, cold moulded or fiberglass
CH40 - S0A – Full Size Patterns A
CH40 - S0B - Full Size Patterns B
CH40 - S0C - Full Size Patterns C
CH40 - S0D - Full Size Patterns D
CH40 - S0E – Full Size Patterns E
CH40 - S0F – Full Size Patterns F
CH40 - S0G – Full Size Patterns G
CH40 - S0H – Full Size Patterns H
CH40 - S0I – Full Size Patterns I
CH40 - S0J – Full Size Patterns J
CH40 - S0K – Full Size Patterns K
CH40 - S0L – Full Size Patterns L
CH40 – S1 – Lines Plan
CH40 – S2 – Mast and Sails
CH40 – S2B – Mast and Sails B
CH40 – S3 – Interior Layout
CH40 – S4A – Deck Layout
CH40 – S5A – Structural Plan
CH40 – S6A – Transverse Sections A
CH40 – S6B – Transverse Sections B
CH40 – S6C – Transverse Sections C
CH40 – S7 – Keel
CH40 – S8A – Longitudinal Section - Fwd
CH40 – S8B – Longitudinal Section - Aft
CH40 – S9 – Custom Fittings
CH40 – S10 – Rudder Bearings
CH40 – S11 – Transom Arch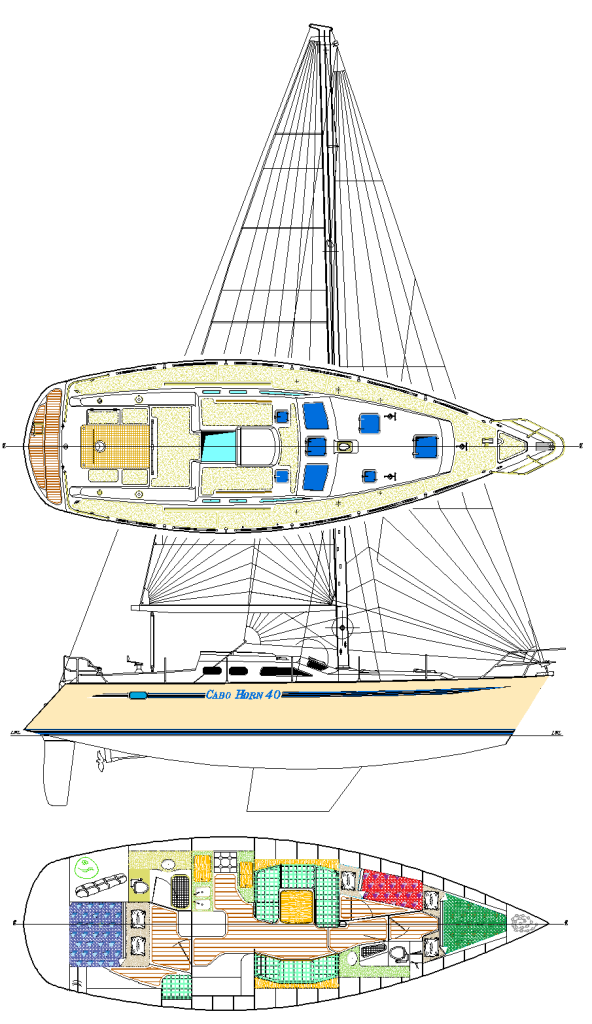 The Cabo Horn 40 has three cabins and two heads, being the aft cabin an ensuite. The spacious saloon layout is arranged along a raised floor level, allowing an optional second steering station under the trunk's coach-roof. The sensation of comfort across the whole interior is a feature highly appreciated by all Cabo Horn 40 owners.
The interior layout is suited for five persons to sleep in three separate cabins. In case of need two more crewmembers will find room to sleep in the saloon using the settees as bunks.
The balance of accommodation comfort along all compartments of the yacht is a point to be considered when designing offshore cruising sailboats. In this respect the Cabo Horn 40 design fulfils its purpose of being an offshore expedition machine. A permanent crew of five, with the eventual addition of two more persons, can live aboard for long stretches without feeling the discomfort of cramped spaces. The fuel (350l) and fresh water (750l) tank capacity is intended for long range usage. Fresh water capacity can be increased indefinitely by installing a water maker.
Fore cabin: This cabin is fitted with two V-berths easily convertible into a double berth using a  removable trapeze-shaped bunk-board stored under the V-berths. With 1.90m (6'3") headroom at the entrance hall, having a hanging locker and drawer furniture, it is suited to be used as a very comfortable guest cabin.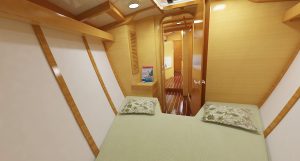 Single berth cabin: This spacious privative single berth cabin located at portside of the corridor is one of the features that fit the Cabo Horn 40 into the category of yachts for a crew of five to live aboard. Aired and illuminated by a hatch placed on the coach-roof and being provided with a cowl vent installed on top of a "dorade box", this cabin is suited to be used by the off-watch crewmember.
The single berth cabin is provided with a lee cloth stored under the berth upholstery. The headroom over the floorboard exceeds 1.93m.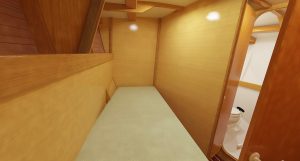 Fore corridor social head: This head with vanity counter, shower sump and toilet is the crew's common head. Its ventilation and illumination are also provided by a hatch and a cowl vent with "dorade box" placed on the coach-roof.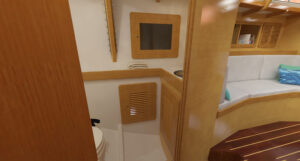 Social saloon: The saloon is as cosy as it can be afforded in a forty foot yacht. Its layout consists of a U-shaped dinette placed at portside, having room for five adults to sit comfortably around its ample dining table, and a sofa at starboard facing the dinette, where four other adults can sit with room to spare. There are lockers and shelves placed behind the outer backrests at both sides of the saloon.
The Cabo Horn main saloon is that of a luxury yacht. Its layout is roomy enough to shelter ten adults in social parties without anybody feeling cramped there.
Another feature to be praised is the airiness and good natural illumination inside the saloon provided by the windows and hatches installed around the trunk's walls. The 2.10m (6'10") headroom also contributes for a pleasant atmosphere on board.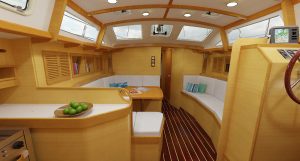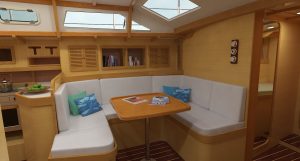 Navigation station and optional inside steering quarters: This compartment is the most complete navigation and piloting station that can be found in a forty-foot yacht. The counter faces forwards, allowing an optional steering wheel to be installed there, being also the best place to fix an internal multifunction monitor, or separate ones, if preferred. The navigation table placed at starboard of the pilot's telescoping chair can be also a radio communication centre, and a working area, totally out of the way from the crew's circulation. The navigation and radio communication station has ample possibilities of arrangements depending on the owner's personal preferences.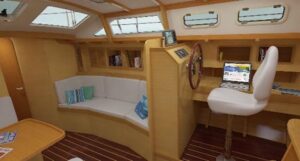 Galley: The U-shaped galley is placed abaft the dinette. It is the most complete galley one may wish to have in a cruising sailboat. The gimballed four burners with oven stove is placed between two counters, the cook having an out of the way nook where every facility is within the reach of the arm. The U-shaped galley is an out-of-the-way place with all appliances being within the reach of an arm's length, giving excellent protection for the cook when sailing in bad weather.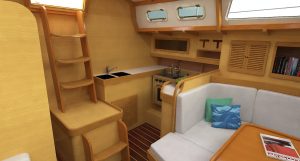 Ensuite aft cabin: One of the highlights of the project is its ensuite owner's cabin. With the resource of building a bridge between the companionway hatch and the cockpit well it was possible to obtain 1.83m headroom along the passage that takes the crew from the cabin entrance hall to the private head. The other feature to be praised is the fact that the double berth can be accessed from its side, since there is a floorboard placed between the berth and the topside.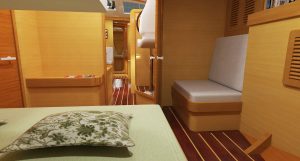 Lazarette: there is a huge space abaft the heads having access from the cockpit where spare sails, inflatable dinghy and other bulky equipment can be stored.
 The Cabo Horn 40 project has the cabin trunk designed in two levels. The lower level extends forwards until reaching the fore cabin entrance hall. This style of cabin trunk, besides providing elegance to the design, it also gives a good support for the foot when the crew is required to go forwards, especially when the boat is heeled. The mast is stepped on the lower part of the cabin trunk coach-roof and is supported by a pillar integrated to the bulkhead that separates the saloon from the fore compartments.
The cockpit transmits a feeling of safety with the seats being well protected by coamings.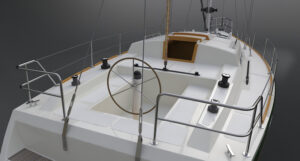 The deckbridge abaft the companionway hatch is wide enough to allow a couple in a hot summer night using a foldable mattress spread over its area to sleep on it. It's popular among Cabo Horn 40 owners to extend the dodger afterwards to give shelter to the bridge deck, leaving only a gap between the dodger and the Bimini to allow the main sheet to travel from side to side. The cockpit seats are well protected by coamings that work beautifully as back-rests. The wide boarding platform at the transom scoop is another source of comfort of the deck layout.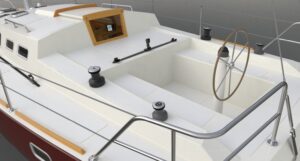 O Cabo Horn 40 é um sloop com o estai de proa indo até o topo do mastro. A mastreação possui dois pares de cruzeta e um par de brandais inferiores de cada lado. Essa configuração é simples e confiável, especialmente em mau tempo. Tanto a mastreação quanto o estaiamento são superdimensionados de modo a garantir bastante segurança mesmo em condições de vento forte. O plano vélico é projetado para cruzeiro sendo a área total de 70.4m², um valor moderado para que o barco seja fácil de ser conduzido com tripulação reduzida. Para bom desempenho quando velejando com vento de proa a genoa possui um overlap de 135% o que proporciona boa performance em vento fraco.
A quilha bulbosa de ferro fundido do Cabo Horn 40 é relativamente rasa para um barco desse porte (o calado é de 1.85m), o que é muito apreciado pelos velejadores de cruzeiro permitindo que o barco entre em locais de águas mais razas. O leme superdimensionado em área e em estrutura proporciona um controle soberbo mesmo nas piores condições.
Projetado com a filosofia de segurança do "tipo cinto e suspensório", o Cabo Horn 40 é construído em madeira moldada sobre vinte e duas cavernas laminadas. Por cima da madeira são aplicadas duas camadas de tecido de fibra de vidro impregnadas com resina epóxi. Duas anteparas estanques criam três compartimentos isolados. Em caso de alagamamento de um desses compartimentos o barco ainda permanece flutuando.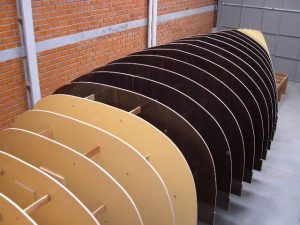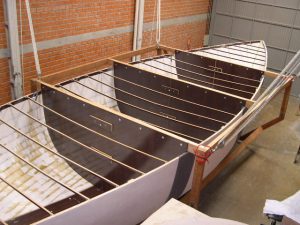 A utilização de madeira como material construtivo, desde que essa madeira tenha p selo verde, representa uma boa alternativa para a preservação do meio ambiente, uma vez que a celulose retida nas células da madeira significa carbono retirado da atmosfera. Alternativamente o barco pode ser construído em sanduíche de fibra de vidro com espuma de PVC, ou em laminado maciço de fibra de vidro. 
*Entre em contato conosco para prazo de entrega