Veleiro confortável e veloz.
O Samoa 28 é um cruiser-racer projetado para construção em sanduíche de fibra de vidro, adequado para construção profissional ou amadora. O resultado é um barco elegante, confortável e de boa performance.
O sistema de construção escolhido para o Samoa 28 é o strip planking com espuma de PVC ou balse. O resultado é um casco forte e leve que pode ser construído sem a necessidade de plug ou moldes, economizando custos e tempo de construção.
A especificação do convés é simples e eficiente. A mastreação é adequada para regatas e para cruzeiro, com a grande vantagem de não ter brandais volantes.
Com uma silhueta moderna e elegante, o Samoa 28 é um barco destinado a se tornar famoso em muito pouco tempo.
Comprimento da linha d'água
1.50/1.70 m  (4' 11"/ 5' 7")
Sanduíche de fibra de vidro
SM28 – S0A – Full Size Patterns A
SM28 – S0B – Full Size Patterns B
SM28 – S0C – Full Size Patterns C
SM28 – S0D – Full Size Patterns D
SM28 – S0E – Full Size Patterns E
SM28 – S0F – Full Size Patterns F
SM28 – S0G – Rudder Full Size
SM28 – S1 – Plano de Linhas
SM28 – S2 – Mastro e Velas
SM28 – S2B – Mastro e Velas B
SM28 – S3 – Arranjo Interno
SM28 – S4A – Arranjo de Convés
SM28 – S5A – Plano de Estrutura
SM28 – S6A – Seções Transversais A
SM28 – S6B – Seções Transversais B
SM28 – S6C – Corte das Anteparas
SM28 – S7A – Quilha de Cruzeiro
SM28 – S7B – Quilha de Alta Performance
SM28 – S7C – Caixa da Quilha
SM28 – S8 – Leme
SM28 – S8B – Leme com Roda de Leme
SM28 – S8C – Quadrante
SM28 – S9 – Ferragens Especiais
SM28 – S10 – Gaiúta
SM28 – S11 – Instalação do Motor
SM28 – S12 – Roda de Proa
SM28 – S13 – Pé de Galinha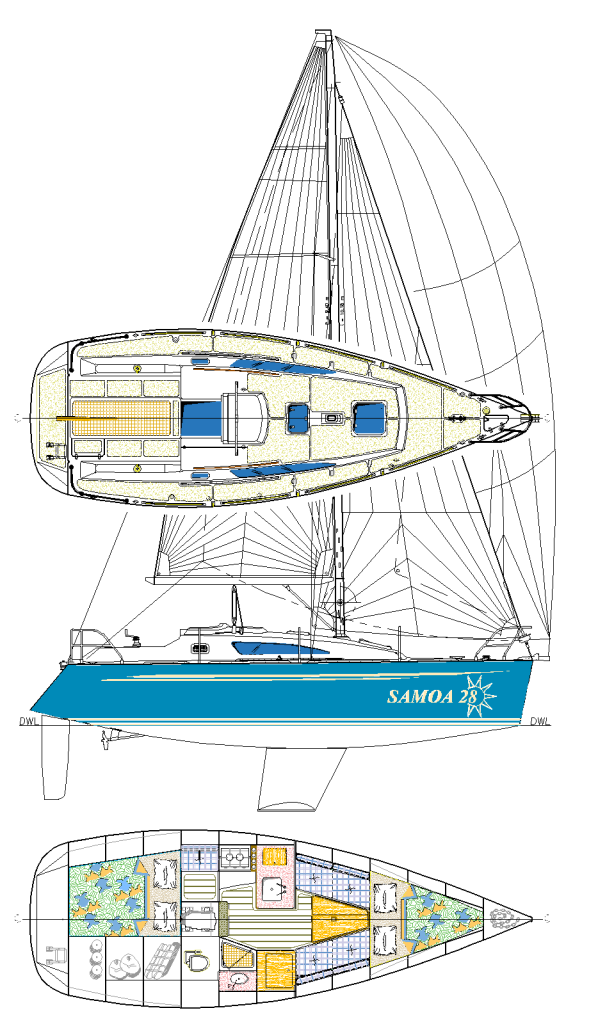 The layout is suitable for long stretched living onboard. A double berth is placed forward, going from the anchor chain locker bulkhead to the seats of the dinette. The saloon is comfortable enough for four persons to have a meal on the folding table attached to the mast pillar, or six adults to be entertained in this social area. The galley and the navigation station are placed at the boat's mid-section, an area of maximum beam and better ventilation. The owner's cabin is placed at the aft quarters with a double berth, clothes lockers, and a sofa to portside, and at starboard is located the head. Abaft the head there is a large bin to store sails and other boat gear. The gas locker is located at the starboard aft corner of the cockpit and is only accessible by means of a lazarette hatch inserted in the cockpit seat. Any eventual gas leakage is drained through a scupper opening on to the transom wall.
Arranjo de Convés e Mastreação:
Above decks the Samoa 28 is an easy boat to be handled. The traveller, placed in front of the companionway hatch, doesn't interfere with the dodger, an important feature when cruising. The cabin trunk extending to the fore deck gives more headroom inside and provides the crew with a foothold when going to the fore deck.
A mastreação é 15/16 o que proporciona bastante segurança quando velejando em tempo ruim. O mastro tem dois pares de cruzetas que suportam bem uma genoa 150% ou o balão.
O barco é fabricado com balizas provisórias de MDF cujos desenhos são fornecidos em escala natural, o que significa rapidez e baixo custo em sua confecção. Em seguida é aplicado sobre essas balizas um revestimento de ripas de madeira, ou de espuma de PVC levemente pregado às balizas. O passo seguinte é, após lixar a superfície externa do sanduíche, realizar um revestimento de fibra de vidro, que também será lixado em seguida. À medida que a laminação vai avançando, os pregos que unem os strips as balizas vão sendo retirados, até que, concluído o revestimento, o casco está completamente solto. Então o casco é virado de cabeça para cima e todas as balizas são removidas. Neste ponto tem-se uma banheira totalmente livre onde serão chumbadas ao casco as anteparas que fazem o interior do barco. Antes de iniciar a fabricação do interior, realiza-se uma laminação interna que deixa o casco com sua rigidez definitiva. As anteparas são filetadas ao casco e depois esta chumbagem é reforçada com cantoneiras de fibra de vidro, desta forma aumentando a rigidez de todo o conjunto que ainda será aumentada com a fabricação da super estrutura.