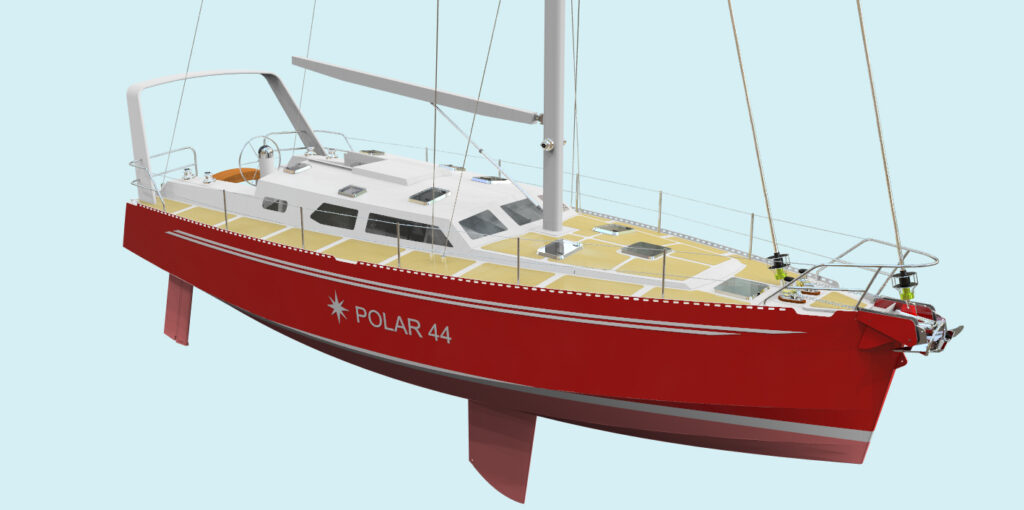 The Polar 44 is a good option in our line of high latitudes capable cruisers, not so big as the Polar 65 and 50, that carried famous explorers to Antarctica and the Arctic, but with a size that already affords serious long range expedition capability.
The hull has good sailing performance, with modern lines and a wide stern, which also allows very roomy interiors. The design is intended for aluminium construction, with robust scantlings to endure any kind of rough weather found in high latitude sailing.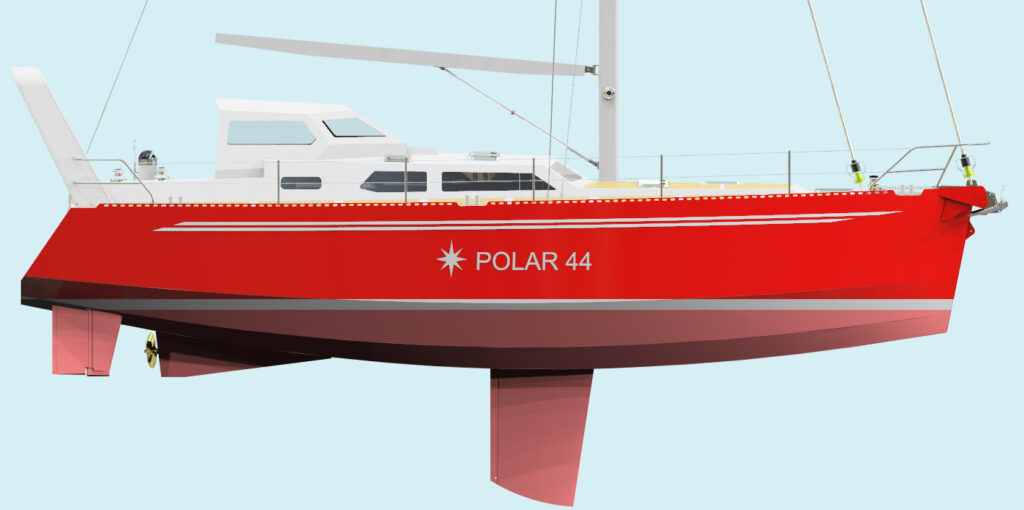 The standard layout has two double cabins and two heads. When coming down from the companionway ladder, to port there is a complete U shaped galley with plenty of working surfaces and a safe position for the cook under way. Directly in front of the galley with easy access, a 4 positions dining table to one side of the swing keel trunk.
A boreste fica uma cabine dupla para a popa e um banheiro completo. Mais à frente, a boreste, fica uma mesa de navegação voltada para a popa e um sofá de dois lugares.
A cabine de casal da proa ocupa toda a área para a frente do mastro, com uma cama central com acesso lateral parcial, banheiro completo dentro da suíte a bombordo e um box de chuveiro separado a boreste.

The cockpit is more than 2.70m long, protected by a hard dodger which takes the mainsail sheet on its roof, leaving the area free of line clutter. There is an easy access to the swim platform from the open cockpit, which can be closed by a folding seat.
A roda de leme hidráulica é instalada num pedestal convencional, com opção para direção mecânica convencional, mais indicada se o navegador quiser instalar um leme de vento.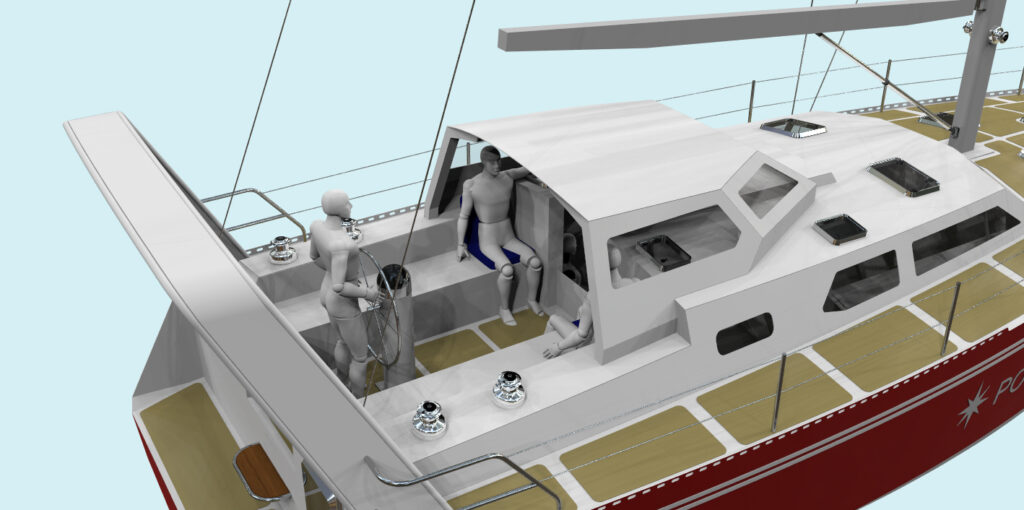 A mastreação tem dois pares de cruzetas anguladas e duas velas de proa permanentes, uma buja 120% e uma buja auto-cambante. Logo à frente do fusil do estai de proa existe um olhal para amarração do punho da gennaker.
Todos os cabos são direcionados para as duas catracas montadas nas braçolas do cockpit, ficando o interior da capota rígida totalmente livre de cabos, um espaço perfeito para fazer vigia durante a navegação, protegido da chuva livre das manobras de convés. Embaixo da capota ainda há bastante espaço para livros e eletrônicos portáteis que podem ser deixados em segurança durante a navegação. Recomendamos a instalação dos eletrônicos externos neste espaço seco e protegido, de onde podem ser operados com todo o conforto e segurança.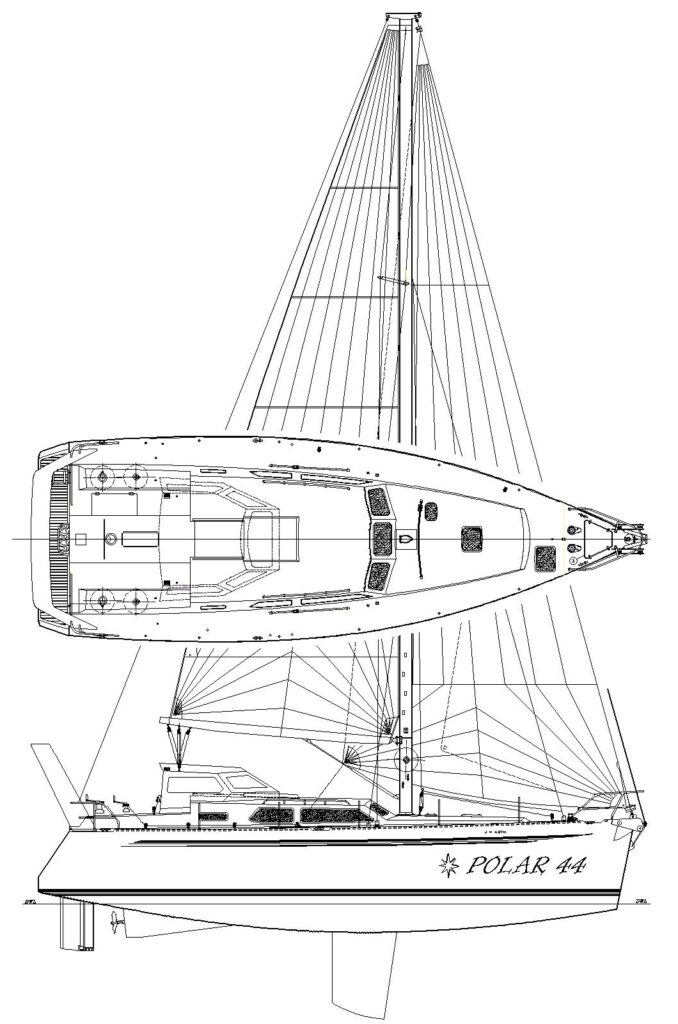 A quilha pivotante é içada por um pistão hidráulico conectado a cabos sintéticos de alta resistência. Desta forma, se o barco se choca contra um obstáculo, a quilha pode subir livremente sem causar danos ao sistema. Esta é uma característica muito importante para aumentar a segurança em barcos de quilha móvel.
A capacidade de encalhar o barco em locais apropriados é uma das grandes características deste desenho, seja para manutenção ou para acessar locais rasos ou com marés de grande amplitude.
A estabilidade estática é garantida por 2500 kg de lastro interno de chumbo e 1195 kg de lastro móvel na forma de chumbo dentro da quilha pivotante.
Com lastro interno e quilha pivotante, o Polar 44 pode acessar áreas de águas pouco profundas e ainda oferece maior segurança no caso de encalhes acidentais ou colisões com a quilha que pode pivotar livremente nesses casos.